News story
Direct entry to be introduced to policing
New entrants to be allowed to join police force management ranks for the first time, Policing Minister Damian Green has announced.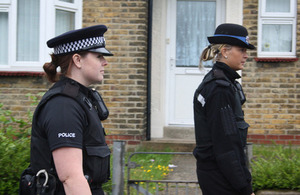 New entrants to the police force will be allowed to join at management ranks for the first time, Home Office minister Damian Green announced on Monday (14 October).
Currently, all police officers have to join as a constable and work their way through the ranks to reach senior levels.
But under new plans announced on Monday, people with the right levels of experience will be able to apply to join at either superintendent or chief constable rank.
Fast track
In addition, graduates will be able to apply for a fast-track scheme which would see them join as a constable, but become an inspector in just three years. The fast-track will also be available to officers already serving at lower ranks.
Policing Minister Damian Green said:
Our reforms are building a police force fit for the future, one which can continue driving down crime.

Introducing direct entry to policing will bring new ideas and a fresh approach to senior levels of the force.

There are many good, bright and enthusiastic people in the police. This reform will make sure even more of the brightest and best join in the future.
Consultation response
The plans announced in parliament followed a public consultation which was launched in response to Tom Winsor's review of police pay and conditions.
It will now be for the College of Policing to design the new direct entry schemes, with the first of the new cohort expected to join next year.
It is envisaged the annual intake to the inspectors scheme will be in the region of 80 officers, with the superintendent scheme developing so that there are at least 20 places on each annual cohort.
Click here to read more from Damian Green on why direct entry will ensure more of the brightest and best join the police in the future.
Published 14 October 2013