Press release
Digital Marketplace: Transforming how businesses sell services to government
A new framework will enable more than 1,200 small and medium-sized enterprises to provide digital services to government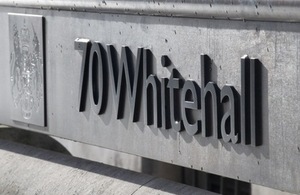 The government has today launched a new framework on the Digital Marketplace that will transform how businesses sell services to government.
A total of 1,261 companies, of which 92% are small and medium-sized enterprises, can be found on the new Digital Outcomes and Specialist framework.
The government and wider public sector will use this to access a wide number of digital service suppliers across the country.
Specialist companies and individuals will be able work together with the government to build and deliver great digital services, providing specialist expertise in areas such as design, development, product management and user research.
The Digital Marketplace, which has been in place since November 2014, is already transforming how government does business. All public sector organisations can use the Digital Marketplace to find cloud-based services, suppliers who can help deliver digital projects and physical data centre space.
This new framework allows suppliers to talk directly with government buyers to better understand their problem and come up with more innovative solutions. Suppliers on the framework can bid for contracts making it easier than ever for government to work with a wide range of companies that best meet their needs. Over 50% of the suppliers on this framework are new to the Digital Marketplace.
The completely redesigned Digital Outcomes and Specialists framework also features a simplified application process which made it easier for companies, in particular SMEs, to get onto the framework.
Matt Hancock, Minister for the Cabinet Office and Paymaster General said:
This government is committed to transforming itself digitally, working together with the very best suppliers to provide innovative products and ideas, that support delivery of the very best services to taxpayers.

The Digital Marketplace is rethinking the way government works with companies. It is the best way yet devised to get small businesses to solve problems for government. Already over a quarter of government spend on contracts is going to SMEs and we are committed to opening up more business to smaller companies to support a thriving economy.
Further information
Over a quarter of overall government spend is now going to SMEs.
The Digital Outcomes and Specialists Framework will sit alongside other government digital frameworks G-Cloud and Crown Hosting, in the Digital Marketplace.
Suppliers on the new Digital Outcomes and Specialists Framework can apply to offer services that come under any of these 4 categories:

digital outcomes
digital specialists
user research studios
and user research participants.

These allow government and the wider public sector to access a broad range of services, from designing an online billing application, recruiting user research participants, or accessing a digital specialist for the development of a product.
Published 27 April 2016