News story
Digital by default: HMRC pioneering the way in digital public services
David Gauke opens pioneering HMRC digital delivery centre as over a quarter of a million more customers renew their tax credits online this year.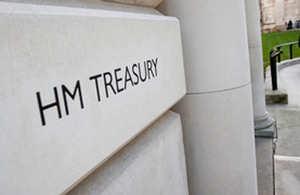 Financial Secretary to the Treasury, David Gauke today opened a new HM Revenue and Customs (HMRC) digital facility in Newcastle, which is revolutionising the way HMRC does business by moving more transactions online for customers.
The new HMRC digital delivery centre is the first of its kind in government, and is a blueprint for how other public sector organisations can deliver digital services in the future.
The centre will play a pivotal role in developing increasingly more online services for customers such as online tax accounts and digital self-assessment.
The opening comes as figures show that over a quarter of a million (276,000) people have renewed their tax credits online this year, proving the scope for the rapid expansion of HMRC's services to operate online.
Financial Secretary to the Treasury David Gauke said:
Being digital by default not only means creating simpler and better services for millions of HMRC customers, but saving tax payers' money in the process too.

It's a privilege to open the new HMRC digital delivery centre in Newcastle today, which is pioneering the way in making services better and cheaper.

I look forward to seeing the results of their innovative work in the coming months and years.
On his visit to the centre, David Gauke sat in on a customer feedback session and saw firsthand how HMRC is developing services around customers' needs.
Customers had a chance to preview new transactions online which are currently in development, such as 'friends and family', which allows someone to nominate a person to act on their behalf in their tax matters. They then fed back to the teams what they liked and disliked about the service on different platforms, and how it can be improved.
Their comments will now be taken on in the next design stage of the services to benefit future customers who will use it when it is fully rolled out.
Recent HMRC customer feedback shows that 95% of customers are satisfied with the online tax credits service.
HMRC's digital vision is to provide all of its customers with their own individual tax account - through which they can see all of their tax affairs and deal directly with HMRC.
HMRC handle 1.15 billion transactions a year - 70% of all government transactions. This includes:
304 million PAYE transactions (of which 95% are completed digitally)
20 million VAT transactions (of which 85% are completed digitally)
In total, the government spends about £6 to £9 billion on transactional services every year. The digital efficiency report, which was published alongside the Government Digital Strategy, suggests that if these services were made digital by default, the government could save between £1.7 billion and £1.8 billion every year.
Published 29 July 2014