News story
Diebold sale resolves CMA concerns over cashpoint merger
Diebold Nixdorf has sold Diebold's customer-operated cashpoint business in the UK to Cennox.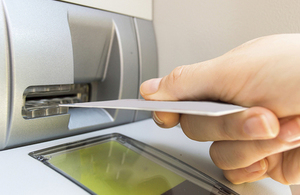 The sale comes after the Competition and Markets Authority (CMA) ordered the company to sell one of its UK cashpoint businesses earlier this year to address competition concerns around the global merger between Diebold and Wincor Nixdorf.
Diebold Incorporated (Diebold), a US company which provides financial self-service products including automatic teller machines (ATMs or cashpoints), bought Wincor Nixdorf (Wincor), a German firm which also provides these products, on 16 August 2016. The new company was named Diebold Nixdorf Incorporated (Diebold Nixdorf).
A group of independent panel members at the CMA investigated the merger and found the market for customer-operated ATMs in the UK had only 3 significant suppliers – NCR, Diebold and Wincor – and that the proposed merger would result in a substantial lessening of competition that could lead to higher prices or loss of quality for the companies' customers.
To prevent this, the group decided that Diebold Nixdorf must sell either Diebold's or Wincor's UK customer-operated ATM business to a new owner, who would then have to be approved by the CMA.
The purchase by Cennox (a UK-based specialist ATM services group) has now been approved by the CMA and brings the merger investigation to a close.
Published 29 June 2017