Press release
Diabetes no longer leading cause of blindness thanks to screening
For the first time in over 50 years diabetic eye disease is no longer the leading cause of blindness in adults of working age.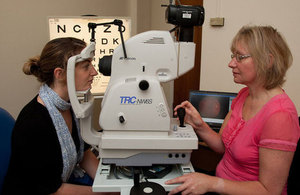 A new study carried out in affiliation with Moorfields Eye Hospital and UCL Institute of Ophthalmology reports on the causes of blindness in England and Wales in working age adults comparing data from 1999 to 2000 with 2009 to 2010.
According to the research, with the prevalence of diabetes increasing during this period, a similar increase may have been expected in the rates of blindness caused by diabetic eye disease. Although many factors have likely contributed to the results, it is safe to say that public health interventions such as screening have played a key role.
Dr Anne Mackie, Director of Programmes for the UK NSC, part of Public Health England said:
Losing your sight is a deeply traumatic and debilitating experience. Before the launch of the diabetic eye programme, less than half of the people with diabetes had regular eye screening. Even where they did, the quality of the test varied from one place to another and many developed serious eye problems that could have been prevented.

2.5 million people are invited for diabetic retinopathy screening every year. Last year more than 74,000 were referred to hospital eye services for further investigation which led to around 4,600 people with diabetes receiving treatment to help prevent sight loss.

Although the diabetic eye screening programme has made huge improvements in the early identification of diabetic eye disease, sight loss is still an important public health issue and can affect anyone. Diabetic eye screening does not look for other eye conditions and it is important for all people, whether they have diabetes or not, to visit their optician for regular eye checks to make sure that any issues can be picked up quickly.
Stephanie Taylor (age 24) was diagnosed with type 1 diabetes when she was 8 years old. She is now using her experience to raise awareness among young people with diabetes, to highlight the importance of careful management of the disease and attending regular eye screening. She said:
I have been suffering from diabetic eye disease in recent years and this is down to the fact I didn't take care of myself or my diabetes.

I am grateful for the screening service for picking up problems and the excellent treatment this has enabled me to get through Moorfields Eye Hospital.

My consultant at Moorfields has been amazing and although I have reduced sight which affects my daily independence, I still have some vision which allows me to continue working and take on challenges to raise awareness for others.

It is crucial that people with diabetes have regular eye checks and that their images are checked by experts.
The NHS Diabetic Eye Screening Programme, introduced by the UK National Screening Committee (UK NSC) in 2003, invites approximately 2.5 million people for screening every year. The programme is shown to significantly reduce the prevalence of sight loss through the prompt identification and effective treatment of eye disease caused by diabetes.
Ends
Notes to editors:
Liew. G, Michaelides. M, Bunce. C; A comparison of the causes of blindness certifications in England and Wales in working age adults (16 to 64 years), 1999 to 2000 with 2009 to 2010. BMJ Open 2014, 12 February 2014

UKNSC is part of Public Health England.

Public Health England's mission is to protect and improve the nation's health and to address inequalities through working with national and local government, the NHS, industry and the voluntary and community sector. PHE is an operationally autonomous executive agency of the Department of Health.

www.gov.uk/phe Follow us on Twitter @PHE_uk
Photo copyright UK National Screeing Committee; used with permission.
PHE screening press office
Published 17 March 2014
Last updated 17 March 2014
+ show all updates
Corrected contact details to refer to the national screening committee and NHS screening programme.
First published.