Press release
DHL UK Foundation wins Big Society Award
The DHL UK Foundation, an independent charity working with the DHL business and its employees, is the latest winner of a Big Society Award.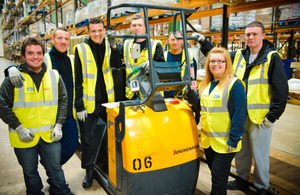 The Foundation, which invests in activities and programmes enabling children and young people to achieve their full potential, also promotes social action by encouraging the 50,000 UK-based DHL employees to volunteer in their local communities.
Founded in 1988, the Foundation receives a combination of investment income and donations from the UK businesses of DHL. In partnership with charities such as Outward Bound, The Prince's Trust and Groundwork, as well as through their own road safety programme, their overall objective is to ensure young people across the country achieve their full potential.
These projects include:
outward bound initiatives - working with over 150 disadvantaged high school students helping them fulfil their full potential through a 1-week outdoor adventure in Wales
job training - The Prince's Trust and DHL give unemployed young people intensive training in job skills, motivation and confidence aiming to break the cycle of insecurity and unemployment
trucks and child safety - large vehicles are taken into school by DHL volunteers to act as a memorable visual aid, alerting 7 to 11-year-olds of the dangers of lorries on the road
Transform It! - DHL employees can apply for grants from £5,000 to £10,000 to fund physical improvements to community facilities to benefit children and young people
Heathrow Special Needs Farm has received a grant through Transform It! Perched on the end of one of Heathrow's runways, the farm supports clients of all ages with special needs, who learn new skills and self-confidence through interaction with the animals and by working in the kitchen garden. The money has enhanced security, improved kitchen facilities and added to the animal accommodation. Volunteers from the IT department at DHL Express's nearby headquarters regularly give their time to support its work.
The DHL UK Foundation has spent over £1.6 million on grants, donations and other charitable activities in 2012 alone.
In the past 4 years:
over 140,000 hours volunteered by DHL UK employees
131,000 children received a free Trucks and Child Safety (TACS) demonstration
1,050 disadvantaged children attended Outward Bound
24 Get into Logistics training courses took place, with The Prince's Trust, attended by 260 young people
donations of over £3,228,000 were made by employees and the Foundation to charities and community groups through Match It!, a programme where employees can apply to have fundraising and volunteering activities boosted
The Foundation is looking to develop its relationship with Outward Bound over the coming year - delivering more outdoor learning opportunities and also working with The Prince's Trust to engage other logistics industry companies to support young people not in employment, education, or training.
Prime Minister David Cameron said:
The DHL UK Foundation has made a huge difference to the lives of disadvantaged children across the UK. It has an innovative and compassionate approach to ensuring young people achieve their full potential.

This is a fantastic example of an organisation that really is part of the Big Society, working in partnership with charities and volunteers, focused on improving the lives of those they support. This award recognises their commitment and achievements and I hope they continue to grow and reach even more people.
Helen Parker, Manager, the DHL UK Foundation said:
This award is a huge boost to all the people who donate their time and skills to making a difference to the communities in which they work. Their efforts are not always publicly recognised - of course, they don't volunteer or fundraise to get praise - but this award is recognition of the efforts of everyone who has taken part in one of the Foundation's programmes. We hope that it will spur more people on to look at how they might make a difference to the lives of young people where they live.
Sharon Davies, Corporate Affairs Director, DHL commented:
By working with the Foundation, we add the strength of DHL as a major employer and our resources to their expertise, and together we make a real difference to the communities we operate in.
Notes to editors
Images available upon request.
On DHL:
DHL is the global market leader in the logistics industry and 'The logistics company for the world'. DHL commits its expertise in international express, air and ocean freight, road and rail transportation, contract logistics and international mail services to its customers. A global network composed of more than 220 countries and territories and about 285,000 employees worldwide offers customers superior service quality and local knowledge to satisfy their supply chain requirements. DHL accepts its social responsibility by supporting environmental protection, disaster management and education.
DHL is part of Deutsche Post DHL. The group generated revenue of more than €55 billion in 2012.
For more information on the foundation please see the DHL UK Foundation website.
For media enquiries contact and images please contact:
Helen Parker
Manager - DHL UK Foundation
Email: helen.parker@dhl.com
Phone: +44 1344 744317
Mobile: +44 7770 281155
Laura Piscaer
Communications Manager - The Big Society Network
Phone: 020 785 895
Email: laura@thebigsociety.co.uk
On the Big Society Awards
The Big Society Awards were set up by the Prime Minister in November 2010. The aim is to acknowledge individuals and organisations across the UK that demonstrates the Big Society in their work or activities. In so doing, the aim is also to galvanise others to follow.
The award focuses upon 3 specific areas:
Outstanding contribution to community
people, projects and organisations that enable communities to drive change themselves
projects and organisations that allow the community to identify solutions
people, projects and organisations that inspire others to contribute to their community
Improving lives and society through innovation, collaboration and new partnerships
people and organisations taking new approaches to public services
successful collaboration and partnerships between public, private and voluntary sector - working together to benefit communities
Engaging in social action
people, projects and organisations taking action in their community
working together for social change (eg through creating groups, campaigns, movements)
generosity of time, money, skills and other resources - in support of social action
Launching the awards, the Prime Minister said:
There are some amazing projects and remarkable voluntary work going on in towns and cities up and down the country, by all kinds of organisations from large enterprises to tiny grassroots schemes and inspirational individuals.

These awards are a chance to pay tribute to those making a valuable contribution to their community, the real champions of the Big Society, but perhaps more importantly, I hope they will motivate many others to take action, get involved and drive change in their area.
Nominations come in from the general public after which there follows a process of scoring and short-listing by civil servants and a further short-listing by a panel of ministers and independent external experts. This panel makes recommendations to the Prime Minister who makes the final decisions about who to make the award to. Twelve winners are decided each quarter meeting and then announced once a week throughout the year.
78 winners have been announced to date, including:
M&S Shwopping - the Shwopping scheme aims to reduce the volume of clothes that are thrown away to landfill, reducing the environmental impact, whilst supporting Oxfam's many good causes. Customers can bring unwanted pieces of clothing, and put them in bins known as 'Shwop Drops'. The clothes are then given to Oxfam to re-use, recycle or re-sell.
Community Action Through Sport - originally established in 2005 in Bude, North Cornwall, Community Action Through Sport won a 3-year BIG Lottery grant in 2011 to help its work in harnessing young people's interest in sport around the Olympics. With the help of this funding they expanded from one branch to 15 across the south west in just over 2 years. Each branch helped young people turn their ideas for positive community action into solid proposals, which were brought to life by local agencies. The organisation targeted young people of all backgrounds and helped children at risk of getting drawn into anti-social behaviour make a more positive contribution to their local area. The organisation also sought to rebalance negative perceptions of young people in the wider community.
Magic Breakfast - tackling child poverty, encouraging healthy living Magic Breakfast is a charity dedicated to ensuring every child starts the school day with the right breakfast
For a full list of winners visit the Big Society Awards website.
Published 13 June 2013