DFID research: Strengthening Work in Conflict-Affected Countries Through Research
Today the International Development Committee publishes its report 'Working in fragile and conflict-affected states: DRC and Rwanda'.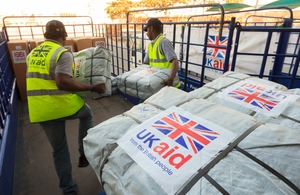 Today the International Development Committee publishes its report 'Working in fragile and conflict-affected states: DRC and Rwanda'. The report is timely: DFID is scaling up its work in challenging environments with 21 out of 28 (75%) of its focus countries being fragile or conflict affected.
DFID Research supports a range of initiatives that are examining the driving forces behind conflict. The Centre for Research on Inequality, Human Security and Ethnicity (CRISE) is a major DFID funded research programme that identified the importance of 'horizontal inequalities' (i.e. inequalities between political, social, or economic groups or simple discrimination) as a cause of conflict. Based at the University of Oxford, CRISE research has yielded new thinking in areas from using aid to prevent conflict, to post conflict reconstruction across a range of country-specific and regional contexts. CRISE research and country analysis has shown how inequalities between culturally formed groups lead to disturbances and political instability. By turning the focus of policy towards inequality and the neglected dimensions of political, social and economic inclusivity, CRISE's research has had a significant impact on policy making and development strategy.
Between 2001 and 2010 DFID funded research by the Crisis States Research Centre (CSRC) led by The London School of Economics (LSE). The CSRC was a large scale research programme on fragile states and generated a wealth of policy relevant knowledge on conflict, the collapse of states, post-war reconstruction and the long term impact of international interventions in fragile environments. CSRC findings and conclusions highlighted problems associated with achieving security at the expense of development, economic growth and poverty reduction. The project generated extensive research outputs on themes of State-making, Cities and Fragile States, and Global and Regional Axes of Conflict.
In addition to understanding the causes and processes that underpin conflict, DFID research examines the role of development in building effective states that are strengthened by free and fair elections, access to justice, citizenship and political participation. In order to increase policy knowledge in this area, DFID supported the Citizenship, Participation and Accountability Development Research Centre and the Centre for the Future State - two projects led by the Institute of Development Studies (IDS) at the University of Sussex. Both projects delivered policy relevant findings that led to changes in DFID thinking on governance.
Millions of the world's poorest people live in conflict-affected countries and states. Many future flashpoints for conflict are likely to be in fragile countries and regions that exhibit high levels of instability and poverty. Chair of the International Development Committee, the Rt Hon Malcolm Bruce, said: "There are obvious benefits of providing aid to fragile states. It is, after all, cheaper to prevent conflicts, than to deal with wars and their aftermath".
The UK Government has committed to spend 30% of Official Development Assistance (ODA) - approximately £3,414 million - in these environments by 2015.
Published 5 January 2012