News story
DFID Research: overcoming local barriers to girls' education
A recent report highlights the need to look at the types of obstacles preventing girls' from completing their education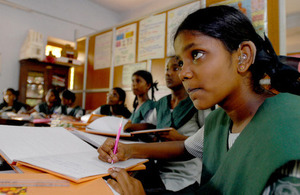 Today is the International Day of the Girl Child and to mark this the World Bank is facilitating an online conversation between their president, Dr Jim Yong Kim, and Malala Yousafzai, the 16 year old educational campaigner from Pakistan who was shot by the Taliban a year ago on her way home from school.
Malala's experience highlights the massive social and religious constraints effecting girls worldwide. But it also draws into sharp focus another barrier to girls' education perceived by many communities across South Asia: personal safety.
While the main obstacles to female education are frequently assumed to stem from cultural or religious social attitudes, it is often concerns about safety when traveling to and from school which are identified at community level as the reason behind female dropout. As a 2010 study by Oxford University points out, in both rural and urban Pakistan, girls are often forced to give up education after primary level due to the lack of secondary schools in their local area.
So while religious and cultural values may play a large role in inhibiting girls' school attendance in some regions, in others the barriers are seemingly far simpler, in relative terms, to overcome. This is why it is essential to correctly identify the types of obstacles perceived in specific regions and communities in order to deliver effective interventions.
In June of this year, DFID supported a study which focused on the issues in Madhya Pradesh in India, a region where girls' attendance falls dramatically at secondary level. The high dropout rate in Madhya Pradesh highlights the regional disparities prevalent within countries in South Asia. A broad overview shows that South Asia has an 80% completion rate for children at primary school, however, as evidenced by the poor progress of Pakistan and Afghanistan (female primary school enrolment was shown to be less than 65% in both these countries in 2011, as opposed to a rate of 91.5% in India, according to the World Bank Gender and Equality Statistics, the differences between countries remains substantive. Similarly this is reflected within countries themselves with India's good progress overall being undermined by severe regional imbalances in educational achievements.
The comprehensive study was conducted by FHI 360 and looked at 3 minority populations: Scheduled Caste (SC), Scheduled Tribe (ST), and Muslims. Madhya Pradesh has the largest SC and ST concentration in India and a large percentage of the remaining population belong to other minority groups. With the current literacy rate among tribal populations standing at 41.2%, against the state's literacy rate of 64.1%, the region is a clear example of the dramatic disparities in India's educational system.
Looking specifically at the demand-side barriers to girls' secondary school enrolment, the study aimed to determine the reasons behind the high dropout rate at secondary level for girls in order to propose suitable interventions. It highlighted that while the Indian constitution names education as one of the fundamental rights, it still remains the case that girls and women are most affected by educational disparities.
The final report lays out the methods used, outlining the design and process of data collection throughout the study. The team collected qualitative data through focus groups and in-depth interviews as well as conducting household surveys within the specified communities. From this 3 main barriers were identified as being the main drivers behind girl's dropout rates:
Concern over safety due to school distance
Financial constraints
Failing the class 9 exam
The report then presents a number of recommendations which address these particular barriers including:
looking more closely at the potential take up of a bicycle scheme in Madhya Pradesh
ensuring that cash incentive schemes are well run and provide sufficient amounts for parents to cover the costs of secondary school
paying more attention to supply-side barriers, such as quality of teaching, in order to address problems such as exam failure
The findings of the study highlight the need to assess all barriers within their context. While religious and cultural barriers cannot be ignored on an international level, by identifying more practical obstacles, within communities, interventions can be put in place to provide both short term and long-term solutions which could serve to increase girls' attendance in a relatively short period of time. This study demonstrates the importance of addressing localised issues in order to empower girls at a local level and thus accelerate positive cultural change nationally and internationally.
The full report can be accessed below.
A conversation with Malala Yousafzai will begin at 1pm EDT (6pm BST).
Published 11 October 2013