DFID research: New research to reduce poverty
Seventeen new research awards have been made as part of a joint 'poverty alleviation' research programme from the ESRC and DFID.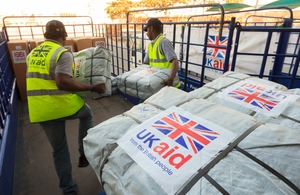 A wide range of new research projects aimed at improving the lives of the world's poorest has been given the go-ahead, at a total cost of £7 million. The 17 new research awards are part of a joint 'poverty alleviation' research programme from the ESRC and the Department for International Development (DFID). The joint research scheme aims to build a better scientific basis for development work, and to support the achievement of the Millennium Development Goals. Total budget for the scheme's second phase is £23 million, with £7m set aside for the selected 17 research projects.
All the research funded has a potential impact in terms of reducing poverty and providing new research findings for policymakers - so that better policy is developed and resources are spent more efficiently, so more people are lifted out of poverty. This particular round of funding has three main themes: Population and Development; Development in a Changing World - the challenge for theory, policy and action; and Inequality and Development. Several of the research projects focus on related issues: five of them examine different aspects of how to improve the lives of women, while others study social diversity. The research findings will feed into ESRC and DFID strategic priorities regarding development.
Examples of the research projects include:
temporary Migration and Economic Development: the Triple-Win Policy Vision applied to North Africa (Dr Jackeline Wahba, University of Southampton) Dr Wahba and colleagues from Egypt and Morocco will explore the basis of the so-called ?triple-win? policy vision of temporary migration from North Africa ? where both the country of origin, the host country and the refugees themselves are thought to benefit.
Socio-economic inequalities and the MDGs: building evidence to support equitable improvement in maternal and newborn health in Asia and Africa (Dr Antonia Houweling, University College London)
How are socio-economic and gender inequalities impacting on mortality for mothers and babies? Led by Dr Houweling, the research team will examine how poor and marginalised groups are excluded from efforts to achieve the Millennium Development Goals in maternal and new born health, and how these inequalities can be reduced.
The Promises of Fibre-Optic Broadband: A Pipeline for Economic Development in East Africa (Dr Mark Graham, Oxford Internet Institute, University of Oxford)
In 2009, after multi-million pound investments, East Africa was connected via fibre-optic cable to the internet. Using case studies from Kenya and Rwanda, Dr Graham and colleagues will study whether the new broadband possibilities will boost economic development of countries in the region, as envisioned by political leaders. See also the web feature Fibre-optic hopes for East Africa.
More about the research programme: ESRC-DFID joint scheme for research on international development (poverty alleviation)
Published 2 December 2011