News story
DFID Research: Nanotechnology in the fight against Malaria
Project Nanomal has announced the development of a new handheld device to help combat Malaria.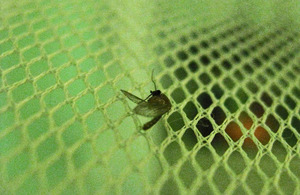 On Thursday the 25th April people around the globe marked World Malaria Day. The struggle against malaria continues to prove long and difficult. The estimated death toll in 2010 was 660,000 and while mortality rates have fallen by 25% since 2000, there are still serious concerns about the development of drug resistance in particular strains.
On World Malaria Day however, St George's University of London and the nanotech company, QuantuMDx Group, announced that they were ahead of schedule in producing what they predict will be an invaluable tool in diagnosing infection and potential drug resistance, before the drug has been prescribed.
The device is likened to one used on a smartphone and is designed to analyse the DNA from a finger prick of blood within 15 minutes. The analysis then concludes whether the patient is infected and which strain of malaria is contained in the blood allowing for a "personalized" prescription for the patient.
The Nanomal device is expected to cost about the same as a smartphone but Elaine Warburton, the CEO of the QuantuMDx Group, has proposed free distribution among medical professionals in target areas such as Sub-Saharan Africa.
This device could complement research currently being carried out by the Artemisinin Resistant Malaria Programme (TRAC) project. Funded by the Department for International Development, the project is a partnership between the Mahidol Oxford Tropical Medicine Research Programme (MORU); London School of Hygiene and Tropical Medicine (LSHTM); Liverpool School of Tropical Medicine (LSTM); World Health Organisation Global Malaria Programme; and the WorldWide Antimalarial Resistance Network (WWARN).
The project investigates the spread of parasite resistance to artemisinin-based therapies. It has identified 15 key sites in Asia and Africa and carries out research into the clinical, pharmacokinetic, molecular and socio-economic aspects of artemisinin resistance.
Part of their research is focused on identifying the spread of this resistance. It comes as part of the WHO Containment Project which responded to the alarming surge in Malarial deaths worldwide due to the development of resistance to a key malaria drug Choloroquine. If a similar resistance to artemisinin were to develop and spread the results could be even more profound.
Thus the development of a handheld device that can potentially identify drug resistance in patients could be very welcome news. By providing quick and easy diagnosis of the particular strain of malaria, medical professionals and researchers will be able to prescribe drugs more accurately, reducing expenditure and time thus allowing for more research into specific parasite resistance.
Published 29 April 2013