DFID Research: Knowing girls, knowing the risks: education, community and HIV in rural India
The Karnataka Health Promotion Trust (KHPT) conducted a qualitative survey to identify the perceived value of education among girls of school age in Karnataka, India.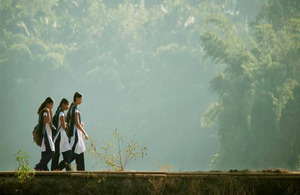 Tackling the Structural Drivers of the HIV Epidemic (STRIVE) is a research consortium, funded by DFID, which coordinates research around the social factors that increase vulnerability to HIV infection. A recent infographic illustrated those factors surrounding women specifically, one of which was poor livelihood options.
When looking at poor livelihood options as a driver in the HIV epidemic, it seems logical to assess how girls access and view education. The Karnataka Health Promotion Trust (KHPT) has studied the factors that influence the livelihoods of adolescent girls in the Indian states of Karnataka, Maharashtra, Andhra Pradesh and Rajasthan.
Working in partnership with STRIVE, KHTP places particular emphasis on empowering sex workers and enhancing access to social entitlements. Looking at the root communities of adult sex workers and interviewing girls within them provides insights into local attitudes which inform and shape appropriate interventions.
In 2012 KHTP produced a report exploring the social needs of girls in relation to education in Karnataka, India. In an area where up to 41% of girls are married before the age of 18 and the Devadasi tradition is still alive, the cause for school dropout is usually assumed to be initiation into sex work.
Know me: Understanding the vulnerabilities of adolescent girls presents the findings from a qualitative survey that asked girls between the ages of nine to eighteen about specific social needs in order to identify the perceived value of education in their social group.
In the study, participants acknowledged that school was an escape from household work and potential child labour. However, this perception seemed to hinge upon the existing strength of the individual's social sphere. Highlighting the significance of adult figures the report indicated how girls in school associated their teacher with happiness and saw them as a popular role model while those outside of school often claimed to have no role model.
The findings also demonstrated the difference in projected lifestyle choices articulated by those in education and those outside of it. Without the exposure to a wider social sphere girls were more likely to align their choices with the values of their family; normally placing a strong emphasis on early marriage.
The report arranged the sample into age groups to highlight the progression of attitudes and situation as they matured. While 86% of girls in the nine-thirteen age group attended school, this dropped to 53% for those between seventeen and eighteen.
Schools were not viewed simply as places for learning but provided the girls with a secure social space where they could develop stronger relationships and social awareness. The report highlighted that by leaving school and thus reducing that social sphere, girls became more vulnerable to sexual exploitation and were left without the knowledge or ability to access necessary resources.
Suggested interventions included workshops which focused on life skills and dealing with emotions in order to build a support network for girls outside of school. Self-defense classes were also put forward as an additional means of building self-image and confidence and thus potentially reducing the number of adolescents entering into early marriage and sex work.
However, as the report emphasizes, no intervention can be successful without the support of the community. The work undertaken by STRIVE aims to identify effective points of entry. Qualitative research, such as the KHTP report, offer an insight into a community that can point to the successful first steps in gaining their support.
By listening to populations vulnerable to HIV infection, STRIVE and its partners are generating a comprehensive picture of the structural drivers surrounding different social groups. Working with communities to build networks and reduce marginalization, the programme develops social interventions for the drivers of HIV, rather than medical interventions for the consequences of HIV, in the hope that this will provide a gradual way out of a thirty-year struggle.
Published 27 February 2013