Case study
Success story: sharp-eyed innovation that captures all the action
Blue Bear Research focuses on fast-action sports and military markets with its Chameleon Eye technology borrowed from the insect world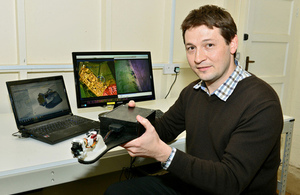 A new, more affordable way to reduce blurred images when filming fast-moving objects could soon be helping skiers, skydivers and bungee jumpers capture their exploits on camera.
At present if you want to stabilise a camera you'd have to shell out several thousand pounds. Bedford-based Blue Bear Systems Research believed that there was a potential market for a smaller, lighter, cheaper technology that would work not just for the unmanned systems they develop but also in extreme sports action cameras
£25,000 in grant funding from Innovate UK helped the company carry out a feasibility study to prove that the technology worked.
Their Chameleon Eye technology takes inspiration from insects' ability to respond directly to the way features seem to flow around them when they move.
Mike Snook, who led the project, explained:
Insects look at imagery in a simplified way - a technique called optic flow enables them to process vision without necessarily knowing what is going on. Our system is simple too. It looks for moving features in an image and compensates by shifting the camera to another position.
The technology combines a new generation of tiny vision chips - that combine optical sensing with processing - with a slewing camera like the ones used in the Police Camera Action TV show.
The most difficult part, as always, was the integration, getting the sensors, motors and processors to all work together, but that's where Blue Bear's expertise lies.
Optic flow
The key innovation is in the software that computes the optic flow and implements the filtering and control necessary to stabilise a gimballed or pivoted camera when it is moving. Mike said:
There's always a technology push or a market pull with projects like these. In this case there was more of a market pull. Micro aircraft are very limited by weight and size. You have to think carefully about what you can do with a given size, weight and power. You are always juggling these factors.
Mike and his colleagues created a laboratory prototype that featured in an Innovate UK showcase. They are now showing it to potential clients and are confident that Chameleon Eye will be taken up in the future.
He estimates there are more than 100 action cameras on the market that could make use of Chameleon Eye technology and the next stage is to miniaturise the prototype. Blue Bear is also analysing different types of motion to understand how best to stabilise them.
The company's military and civil clients are already showing interest in using this technology in unmanned aerial vehicles. But it could also be used in other applications, for example, at sea when a boat goes up and down. Here stabilisation is currently done with gyroscopes and accelerometers. It can also be applied to anything that has motion, such as people running or jumping.
Mike is convinced the technology could be deployed in an affordable price bracket that would be attractive in all these areas. He also has no doubts about the key role Innovate UK played in getting this project off the ground.
Innovate UK helps people like us de-risk innovative projects. We found our project to be very well run, they were a pleasure to deal with, and what we got from the project was beyond our expectations.
They helped us get this low cost technology off the ground with the feasibility study they funded. It's now up to us to make it fly.
Published 10 July 2015