News story
DFID Research: Human rights and the judiciary process - lessons from Latin America
The ELLA programme has recently released a video on the significance of judicial involvement in public policies concerning human rights issues in Latin America.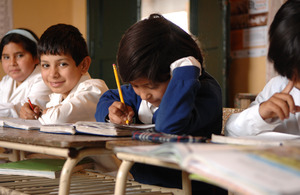 The Evidence and Lessons from Latin America programme (ELLA) is a knowledge sharing and learning platform, funded by the UK Department for International Development (DFID).
As part of their governance research synthesis and dissemination ELLA have recently released a short film Judicial Control of Public Policies and Budget Allocations: Experiences from Argentina, Colombia and Mexico. In the video, experts from Argentina, Colombia and Mexico discuss their work in bringing human rights cases with budget or policy implications before the judiciary.
In the short film they discuss the role of the judiciary in budget and policy issues concerning human rights. Diego Morales, from the Center for Legal and Social Studies outlines how the judiciary affected the electoral rights of detainees in Argentina. Following court recognition in 2002 the state designed new voting policies and electoral structures for detention centres.
Interviewees also consider how budget information can be used to bring human rights litigation before the judiciary. They highlight successful strategies used to influence government and to ensure that budget allocation is considered within a human rights context.
ELLA identifies the judicial involvement in public policies and budget allocation as a significant tool with the potential to improve governance strategies in other regions.
Judicial control of public policies and budget allocations
Latin America represents an important source of development research, policy innovation, and implementation experience. DFID engagement in the area has generated experience that has been of interest to DFID offices and other partners in Africa and Asia, helping to improve development effectiveness.
In several Latin American countries, the judiciary has been taking an increasingly leading role in enforcing human rights. In particular, actors in the judiciary branch have been mandating the executive or legislative branches to allocate budget resources or to design and implement public policies to realise human rights.
From 2009 DFID no longer had an in-country presence in most of Latin America. The ELLA programme began in 2011 in order to capture and synthesise lessons emerging from work in the region. It aims to develop an effective knowledge-sharing network for partners and NGOs still active on the ground as well as between continents. It is designed to ensure the ongoing systematic capture of lessons in Latin America and responsiveness to demand from Africa and Asia.
Recognising the value of south-south networking and knowledge sharing, DFID believes that Latin America's experience of development is very relevant to development practitioners elsewhere in the world. A key objective of the ELLA project is, therefore, to identify audiences for Latin American experiences, and support the creation or strengthening of a network for their dissemination.
ELLA is synthesising knowledge of Latin American countries' recent experience on more than 20 policy and practice issues. Their work is structured around three core themes:
Economic development
Environmental management
Governance
For more information on governance, as well as more analysis of current work and processes in Latin America, visit the ELLA website.
Published 16 April 2013