News story
DFID Research: Ecosystem Services for Poverty Alleviation- Job opportunities
The Ecosystem Services for Poverty Alleviation (ESPA) Programme is currently advertising two new job vacancies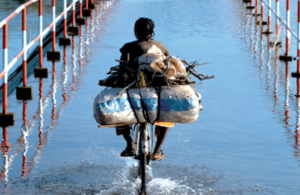 The Ecosystem Services for Poverty Alleviation (ESPA) programme is a 7-year interdisciplinary research programme funded by the Department for International Development (DFID), the Natural Environment Research Council (NERC) and the Economic and Social Research Council (ESRC), as part of the UK's Living with Environmental Change partnership.
ESPA aims to deliver high-quality, cutting-edge research and generate tools that will improve understanding of the way ecosystems function, the services they provide and their relationship with the political economy and sustainable growth.
The programme is currently calling for applicants for 2 roles in the programme:
The ESPA Directorate is looking for a dynamic, creative individual to drive the impact of ESPA research and influence policy and practice at a local, regional and international level.
Applicants should have experience of high-level decision-making and strategic long-term planning as well as a comprehensive understanding of stakeholder needs. The role will demand strong leadership skills and the programme is looking for individuals who have a strong interest in development issues and the ability to work across diverse cultures.
This key senior role in the ESPA Directorate is responsible for the successful operational delivery of the Directorate's programme of work, in line with the strategic goals set by the ESPA Director and the programme's funders.
Applicants should have demonstrated experience in allocating resources and developing realistic operational plans, as well as monitoring and reporting on progress. This role requires creativity and effective management skills in order to solve problems and to steer both Directorate staff and research project leaders collectively to achieve the goals of the ESPA programme.
The closing date for applications for both positions is 5pm on the 9th of August.
For further information on each of the roles, or to find out how to apply, click on the relevant link below.
Vacancy for ESPA Impact Manager
Published 15 July 2013