News story
DFID Research: Building local disaster risk management capacity
The IFRC, with support from DFID, is commissioning new research on the most effective approaches to building capacity for better disaster risk management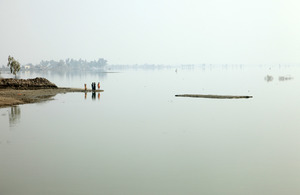 The scale, frequency and severity of humanitarian crises looks set to grow at an accelerated pace over the coming years and decades. In the 20 years to 2012, disasters killed over 1.3 million people and caused US$2 trillion worth of damage, more than the total development aid given over the same period. Disasters have also affected the livelihoods and future prospects of millions of people in the developing world, for example, through the loss of assets such as livestock and severe malnutrition during critical periods of child development.
National governments have the primary responsibility to meet the needs of their populations, and national and local institutions are critical to first line response in emergencies. It is well known that populations are at their most vulnerable when the institutional framework to manage risk is weak, and where conflict further deepens vulnerability. But what are the best ways for international organisations to support national and local institutions to build resilience to disasters and manage humanitarian response?
The International Federation of the Red Cross and Red Crescent Movement (IFRC), with support from the Department for International Development and other donors, is commissioning critical operational research to strengthen the evidence-base on the most effective approaches to building national and local capacity for better disaster risk management.
This is a two year programme, which through the development of at least six country case studies, will produce high-quality and relevant research for policy-makers and practitioners in the humanitarian sector across the world.
Full details on the call and how to apply can be found on the IFRC's website
Applications are being sought from individual organisations or consortiums, which might include academic, civil society, public or commercial organisations, who can demonstrate relevant knowledge and expertise in this area.
The deadline for research proposals is the 1st July 2013, 10:00 CET.
This research programme contributes to DFID's overarching Humanitarian Innovation and Evidence Strategy.
Published 30 May 2013