News story
DFID research: Promoting innovation and evidence-based approaches to humanitarian crises
Humanitarian assistance scaled up and made 'smarter' as global emergencies continued to expand in both frequency and complexity.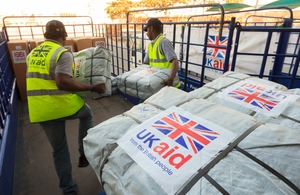 At the end of 2011, the United Nations called for humanitarian assistance to be both scaled up and made 'smarter' as global emergencies continued to expand in both frequency and complexity.  DFID has launched a new strategy to meet this challenge.
The strategy, 'Promoting innovation and evidence-based approaches to building resilience and responding to humanitarian crises', aims to go beyond simply responding to crises by investing in approaches that promote resilience.
It tackles directly four key problems in the global community's current response to crisis to humanitarian crises: First, that decision-makers do not have routine access to good information about risk; second that we don't really know which interventions are most effective in reducing risk, saving lives and rebuilding livelihoods after crises; third, that there is insufficient capacity to build resilience or mount responses when disaster strikes; and forth, that decision-makers are not always using available evidence to inform their decisions.
The strategy's intentions are fourfold:
To work with others, including in the insurance industry, to enable decision-makers in developing countries to access existing evidence about risk, and to better understand whether and how decision-makers use this information to inform action.
To invest in initiatives that help improve the quality and depth of risk analysis, in particular to support initiatives that enable a more integrated analysis of risk.
To invest in initiatives that help understand how best to apply the concept of resilience in fragile and conflict-affected situations in order to help join up the humanitarian, risk reduction and other development investments and initiatives in these environments.
To invest in initiatives that improve understanding of risk in urban environments.
To date, DFID's investment in research relating to disaster risk and humanitarian action has been relatively modest and dispersed across the organisation. The development of this strategy is an opportunity to increase both the scale of investment and coherence of approach.
Published 28 February 2012