DFID Research: Armyworms- fighting in the fields
A recent video report from Professor Kenneth Wilson of Lancaster University follows him in a visit to Tanzania where he witnesses the devastation wrought by the African Armyworm and discusses new research into pest control.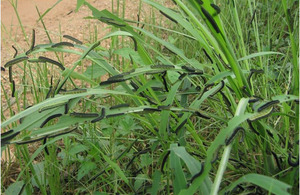 The African armyworm, Spodoptera exempta, is an agricultural pest that can have a devastating impact on farms. A voracious caterpillar, it feeds on cereal crops and can destroy vast areas of agricultural land, in some cases up to 70%, in a period of days.
With outbreaks occurring across the whole of Sub-Saharan Africa, Tanzania and Kenya are particularly affected. Armyworms are similar to locusts in the level of crop damage they inflict. However, their outbreaks are far more frequent; in countries like Tanzania they are a problem nine years out of ten. The outbreaks can continue for months on end and leaves some farmers with a total loss of crops.
Sustainable agriculture research for international development (SARID) was a project co-funded by DFID and the Biotechnology and Biological Sciences Research Council (BBSRC) which supported research into how this pest could be managed in resource-poor areas.
In 2011 the SARID initiative uncovered crucial information on the ecology of a specific virus that attacks the armyworm. This was hailed as an important breakthrough. Prior to this, control of the pest had relied upon chemical insecticides, with over 3,000 litres of the organophosphate Malathion sprayed during a widespread outbreak in Ethiopia in June 2011. However an estimated 70% of farmers in the most affected regions could not afford insecticides. Thus the discovery of a natural enemy provided a crucial pathway for those farmers; an affordable means of combating the armyworm.
Since then research has continued into how this virus can be developed and used effectively.
SpexNPV is a baculovirus that infects only armyworms and is entirely safe to humans, livestock and other beneficial insects. By applying the virus as a biopesticide in the field in the field early in the crop-growing season, farmers are able to protect vital food supplies while allowing time for the development of fresh stocks of the virus, for later use.
In a recent ****video diary** Professor Kenneth Wilson, of Lancaster University, traveled to Tanzania to collect armyworm samples and to speak with some of the farmers dealing with the problem in their fields.**
The video illustrates just how dramatic and significant the impact of this pest can be upon the livelihoods of farmers. Standing in a field of brown stubble, a local farmer describes how only five days before the area was green with crops.
Professor Wilson discusses how research into the frequency and nature of outbreaks of the virus is leading to better understanding of the strategies needed to target armyworm invasions in the fields.
A facility, lead by Crop Biociences and funded by DFID, processes the dead infected caterpillars collected from the fields and allows for development of the virus on a larger scale. Wilson highlights the processing plant as key in increasing local capacity to deal with the problem.
An important element of the SARID initiative involved working closely with the farmers, keeping them informed and offering training. In the BBSRC video, children are filmed collecting the infected caterpillars. This participatory approach ensures that greater amounts of the virus can be harvested and processed.
"We can have a significant impact on the development of…[armyworm] outbreaks and stop further outbreaks, not only in Kenya and Tanzania but also in those neighbouring countries" says Wilson.
By involving local farmers and building local facilities Wilson seems optimistic about future progress in this area. For researchers and resource-poor farmers this battle may just be winnable.
Published 27 February 2013