Spreading the message to curb disease
How UK aid is helping to improve hygiene and sanitation in Bangladesh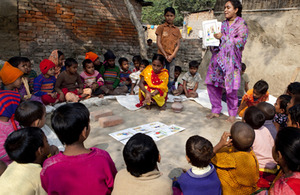 Sitting in a circle on dry leaf mats, a group of children from Bangladesh's Chapainawabganj district laugh at the play they are watching about a dog called Bhulu.
This play is part of a hygiene lesson, supported by UK aid and UNICEF, which is helping to reduce the number children that fall ill with, and die from, diarrhoeal diseases.
"Bhulu defecates in the open and pollutes our neighbourhood," says eight-year old Popy when the play is finished. "We don't like Bhulu because he is very disobedient as he ignores practising hygiene".
Bhulu the naughty dog is one of the fictional animal characters the local community's hygiene promoter has created to teach the children about the bad effects of defecating in the open.
When the play has finished, he explains the serious message behind the performance to the children. 
A few yards away, a similar scene is taking place, this time for adolescents. One of the participants, 14-year-old Rina, is reminding everyone to wash their hands after going to the toilet.
The informal hygiene lessons are organised by the Sanitation, Hygiene Education and Water Supply in Bangladesh project (SHEWA-B), supported by UK aid and UNICEF.
The project aims to reach 30 million people in Bangladesh's rural villages and slums with information about proper hygiene practices, safe drinking water and proper sanitation facilities.
Changing attitudes
In Bangladesh, where diarrhoea caused by poor sanitation and hygiene practices is a leading cause of death, particularly among children, simple hygiene messages have the potential to save thousands of lives. 
"We had big challenges when we started working in the region as most families had little understanding about hygiene and drinking safe water", says Mohammad Roqib Ali, who helps to run the SHEWA-B project in Chapainawabganj.
But since the programme began over two years ago, attitudes towards hygiene in Chapainawabganj are slowly changing for the better. 
The change, Roqib says, is partly due to the village's children, who learn about the importance of personal hygiene and keeping their community clean through the project's information sessions and pass these messages on to their elders.
In places like Chapainawabganj, where illiteracy rates are high, one of the most effective ways to share important health messages is by word-of-mouth. But without the facilities needed to practice good hygiene - a source of clean water and a sanitary latrine - the impacts of hygiene promotion activities would be limited.
That's why, as well as educating communities about the importance of good hygiene, SHEWA-B is building vital infrastructure, such as water points and latrines, in some of the most marginalised parts of Bangladesh. 
The project has reached more than 21 million people through its hygiene promotion activities, provided around 1.7 million people with access to safe drinking water sources and given six million people access to sanitation facilities to date.
Key Facts
The Sanitation, Hygiene Education and Water Supply in Bangladesh (SHEWA-B) project is funded by DFID, UNICEF and the Government of Bangladesh. The project is among the largest intensive hygiene, sanitation and water quality improvement projects in a developing country.
Bangladesh is most off-track on Millennium Development Goal 7: access to water and sanitation. Most of the 7 million people living in Bangladesh's urban slums - the population of which is rapidly increasing - have no access to safe water, sanitary latrines, proper waste disposal systems or adequate sewer drainage.
By 2015, UK aid to Bangladesh will provide access to improved water sources for at least 1.2 million people and improved sanitation for at least 600,000 people.
Published 20 March 2012