News story
Deputy Prime Minister meeting with President Abbas
The Deputy Prime Minister Nick Clegg met Palestinian President Abbas to discuss the Syria crisis and progress on the Middle East peace process.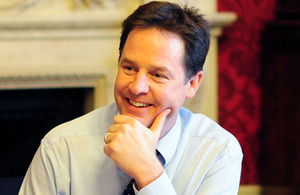 Deputy Prime Minister Nick Clegg met with Palestinian President Abbas today during his visit to the UK. They discussed progress on the Middle East Peace Process, the impact of the occupation on the Palestinian population and the urgent need to reach a negotiated agreement.
They also discussed their shared concern at the impact of the Syrian conflict on Palestinian refugees, their abhorrence at the use of chemical weapons and their wish for progress towards a political solution to the conflict.
The Deputy Prime Minister said:
I was delighted to see President Abbas in London today. During our meeting I underlined to President Abbas the UK's support for the courageous and decisive leadership he has shown, together with Prime Minister Netanyahu, by returning to talks on the Middle East Peace Process. I also paid tribute to President Abbas' deeply-held commitment to peace.

President Abbas and I agreed on the need for both sides to continue preparing their populations for peace. I reiterated that the UK stands ready to do all it can to reach a negotiated agreement leading to a safe and secure Israel living alongside a viable and sovereign Palestinian state.
I also conveyed the UK's continuing concern at the difficulties faced by ordinary Palestinians as a result of the ongoing occupation, including the detrimental effects of demolitions of Palestinian property, treatment of Palestinian child detainees and Israeli restrictions on Gaza. I also reiterated our strong opposition to Israeli settlement-building which is illegal under international law. These issues only underline the urgency of taking the critical opportunity of the current negotiations to achieve the lasting peace that the people of the region need and deserve.
View pictures of the Deputy Prime Minister meeting President Abbas on Flickr.
Published 11 September 2013