Press release
Deputy Prime Minister launches £300 million regional growth pot
Round 5 of the Regional Growth Fund opens today.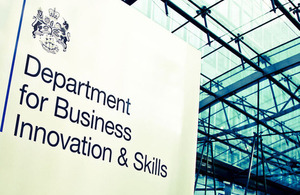 A new round of the Regional Growth Fund opens today as the Deputy Prime Minister Nick Clegg called on businesses across the country to bid for a share of the £300 million cash pot.
The Deputy Prime Minister praised 'home grown and British-based businesses' for their crucial role in Britain's economic recovery.
So far £2.6 billion from the first four rounds of the Regional Growth Fund has supported over 400 projects and programmes, which will create and safeguard hundreds of thousands of jobs over the long-term and stimulate £14.7 billion of private sector investment.
Round 5 will be open to private sector bidders seeking £1 million or more. The government is calling for companies planning high quality projects that will generate significant private sector investment and sustainable jobs. Businesses will be able to submit their bids until noon on 9 December.
Nick Clegg will visit DUCO and Responsive Engineering in Newcastle to see how money they have received from the Fund will help them open up new markets and create jobs in the local economy.
Deputy Prime Minister Nick Clegg said:
This fund has so far helped over 400 projects and over 3,000 SMEs across the country to boost our economy - expanding, improving, innovating and helping secure our economic recovery.

The economic recovery is starting to bloom – we're seeing very encouraging signs that we are turning a crucial corner on our road to recovery. Home-grown and British-based businesses are leading that charge for a stronger economy. The Regional Growth Fund is a helping hand from the government, but I pay tribute to the people who are working hard to fuel our recovery.

My message to businesses in every region is clear - if you've got a project that needs a boost, bid for cash from the Regional Growth Fund.
The Deputy Prime Minister will visit two companies in Newcastle on Friday:
DUCO Ltd in Walker, Newcastle, is using its £3.6 million award cash to create 168 jobs and safeguard 191 posts and to expand its R&D facility and develop a new manufacturing plant which will produce enormous steel tube cables (called umbilicals in the industry) used to control and maintain subsea wells from offshore platforms or ships.
Responsive Engineering in Team Valley. They were awarded £654,000 from the Fund in Round 2, as part of the Let's Grow Package of projects, to invest in a new plant and machinery to expand the company's engineering capability. This has created 82 full time permanent jobs. The investment means that the company can keep ahead of the competition with new highly efficient machinery to precisely cut and weld metal parts for their clients in the oil and gas industry.
The Deputy Prime Minister said:
DUCO Ltd and Responsive Engineering are fine examples of how the Regional Growth Fund is helping local Newcastle companies grow stronger and give hundreds of people from the North East highly skilled jobs.
To help bidders on their applications, road shows and expression of interest days will be held throughout the country from today to provide advice on how to make a successful bid. These will be in the following locations:
11 Oct - Newcastle, North East (launch event)
14 Oct - Loughborough, East Midlands
25 Oct - Huddersfield, Yorkshire and Humber
05 Nov - Plymouth, South West
13 Nov - Liverpool, North West
14 Nov - Birmingham, West Midlands
The Business Secretary was in West Yorkshire yesterday (Thursday) to visit Haribo, one of the UK's leading confectionery brands, as they unveiled their plans for a new purpose built production facility, supported by the Regional Growth Fund and marking a total investment of £92 million.
Business Secretary Vince Cable said:
The landmark investment by Haribo, supported by £6.4 million from the Regional Growth Fund, is a huge boost for West Yorkshire. The factory expansion will not only increase manufacturing activity but also create 286 new jobs for the area.

The Regional Growth Fund is a key part of our plan for growth, helping to create new jobs outside London and mobilising over £5 of private sector investment for every £1 government puts in. Round 5 is now open for applications and I urge businesses to see how it can help them hire more people or expand to new markets.
Business Minister Michael Fallon said:
Round 5 requires minimum bids of £1 million but smaller bids are also supported by the fund through programmes. That is why I am making sure that local and national programmes are available to small to medium-sized businesses from as little as £5,000 in some areas all the way up to £1 million. Since the Fund started, over 3,000 grants have been given to SMEs through programmes.

We expect there will be stiff competition, so companies should take time over their application and demonstrate the benefits that support will bring. We want more businesses to benefit so that they can achieve their ambitions.
Round 6 of the Regional Growth Fund will be launched in the summer of 2014 so that any companies who will not be ready to apply by December can start planning for applications in 2014.
Notes to editors
The Regional Growth Fund is a flexible and competitive fund operating across England. It supports projects and programmes that are using private sector investment to create economic growth and sustainable employment.

Round 5 of the Regional Growth Fund opened on October 11 and will close to applications on 9 December at noon. Bids will be appraised as quickly as possible.

For more information, and further details of the expression of interest events in your areas please go to 'Understanding the Regional Growth Fund' or email growthfund@bis.gsi.gov.uk.

Local Enterprise Partnerships (LEPs) will no longer be required to make separate bids to the Regional Growth Fund. In September 2013, BIS announced it will be making available an extra £100 million for the Local Growth Fund in the period 2015-2017. This will provide extra flexibility to support priorities that LEPs will identify in their Strategic Economic Plans.

LEPs still have an important role to play in RGF Round 5 by supporting or endorsing private sector bids they feel will help them achieve their priorities for economic growth as well as delivering existing programmes.

Applicants should be aware of expected changes to the EU state aid regime from the end of June 2014. This will not have an impact on applications to Round 5 but may have an impact for Round 6. You can find out more information at https://www.gov.uk/state-aid.

To keep up to date on further RGF developments please follow us on Twitter: @RGFGrowthFund

Businesses can find out about their local programmes by visiting Regional Growth Fund: a guide for small and medium enterprises). These programmes typically have a lower minimum bid threshold which may be more applicable for small to medium enterprises.

If your business is not eligible for the Regional Growth Fund, there are plenty of other government backed finance options available. More details can be found at www.greatbusiness.gov.uk/financing-a-business

In June the government reaffirmed its commitment to help small and medium sized businesses succeed. We will be launching a strategy on what further support government will provide to create a positive environment for businesses to start up and grow.

The government's economic policy objective is to achieve 'strong, sustainable and balanced growth that is more evenly shared across the country and between industries'. It set 4 ambitions in the 'Plan for Growth', published at Budget 2011:
to create the most competitive tax system in the G20
to make the UK the best place in Europe to start, finance and grow a business
to encourage investment and exports as a route to a more balanced economy
to create a more educated workforce that is the most flexible in Europe
Work is underway across government to achieve these ambitions, including progress on more than 250 measures as part of the Growth Review. Developing an Industrial Strategy gives new impetus to this work by providing businesses, investors and the public with more clarity about the long-term direction in which the government wants the economy to travel.
Published 11 October 2013