Press release
Department for Work and Pensions' settlement at the Spending Review
The Chancellor has published the results of the spending review, including details of the DWP's budget over the course of this Parliament.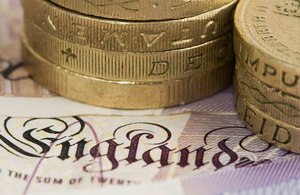 The Spending Review and Autumn Statement delivers on the government's priority to provide security to working people at every stage of their lives. It sets out a 4 year plan to fix the public finances, return the country to surplus and run a healthy economy that starts to pay down the debt. By ensuring Britain's long term economic security, the government is able to spend £4 trillion on its priorities over the next 4 years.
For the Department for Work and Pensions this means:
continued roll-out of Universal Credit, extending job search conditionality to a further 1.3 million claimants by 2020-21
a real terms increase in funding to help those with disabilities and health conditions return to, and remain in, work
a new Work and Health Programme replacing the Work Programme and Work Choice which will provide specialist support for the long-term unemployed and claimants with health conditions and disabilities
investment to enable DWP to become a smaller, more efficient department spending 22% less on administration in real terms, 34% less in real terms on technology and occupying 20% less estate
| £ billion | 2015-16 baseline | 2016-17 | 2017-18 | 2018-19 | 2019-20 | 2020-21 (2) |
| --- | --- | --- | --- | --- | --- | --- |
| Resource DEL (1) | 5.8 | 6.1 | 6.3 | 5.9 | 5.4 | * |
| Capital DEL | 0.2 | 0.3 | 0.4 | 0.3 | 0.2 | 0.2 |
| Total DEL | 6.0 | 6.4 | 6.6 | 6.2 | 5.7 | * |
(1) In this table, Resource DEL excludes depreciation.
(2) 2020-21 Resource DEL departmental budgets have only been set for some departments. For the rest, these budgets will be set in full at the next Spending Review.
Security
The government is committed to creating a fairer, more affordable welfare system that helps people gain the security of work and supports those in need. It will continue support for the long-term unemployed and people with health conditions and disabilities, including through the New Enterprise Allowance and a new Work and Health Programme. The government will also continue to deliver key reforms such as Universal Credit, Personal Independence Payment and Child Maintenance.
Efficiency and reform
The claimant count rate remains at 2.3% – the lowest level since the 1970s. As the numbers claiming benefits come down, spending on employment programmes can also be reduced. Total spending on employment will be reduced, including not renewing Mandatory Work Activity and Community Work Placements, but introducing a Work and Health Programme for the longer-term unemployed and those with health conditions.
DWP will be transformed into a smaller, more efficient department. DWP's estate will be reformed and reduced by 20% and the number of jobcentres co-located with local authorities will be expanded, benefiting claimants and those using government services while delivering a total reduction of 30% in estate costs. DWP will deliver cash savings of £319 million on technology while investing in information security.
Devolution
The Scotland Bill will, for the first time, transfer significant welfare powers to Scotland, including the ability to top-up reserved benefits and create new benefits in devolved areas of responsibility. This fully delivers the Smith Commission agreement.
In addition, from 2017, local areas including London, Greater Manchester, Sheffield City Region, the North East, Tees Valley, Liverpool City Region and the West Midlands will work with DWP to co-design employment support for harder-to-help claimants.
Secretary of State for the Department for Work and Pensions, Iain Duncan Smith
Iain Duncan Smith, said:
Our welfare reforms are fundamentally about delivering greater opportunity through life change: supporting everyone who is able to work to do so, while at the same time maintaining the valuable safety net for those that need it. This government has made remarkable progress but there's more to do.

This Spending Review will see the start of genuine integration between the health and work sectors, with a renewed focus on supporting people with health conditions and disabilities return to and remain in work. We will increase spending in this area, expanding Access to Work and Fit for Work, and investing in the Health and Work Innovation Fund and the new Work and Health Programme.

Universal Credit remains the key plank of our welfare reforms – ensuring work always pays. Roll-out continues, and the new benefit will be in every Jobcentre Plus by spring next year.

Alongside this, as part of our drive to create a modern, dynamic, Jobcentre service the department will be introducing new ways of accessing and engaging with the employment support we offer. This will be better for those using our services, and will also improve the way these services are delivered – making them much more efficient.
Published 25 November 2015