Press release
Department for Transport's settlement at the Spending Review 2015
The Chancellor has published the results of the spending review, including details of the Department for Transport's budget over the course of this parliament.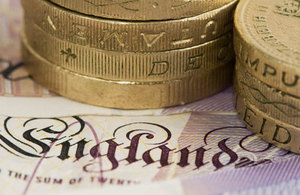 The Spending Review and Autumn Statement delivers on the government's priority to provide security to working people at every stage of their lives. It sets out a 4 year plan to fix the public finances, return the country to surplus and run a healthy economy that starts to pay down the debt. By ensuring Britain's long term economic security, the government is able to spend £4 trillion on its priorities over the next 4 years.
For the Department for Transport (DfT) this means:
£46.7 billion capital investment by DfT over the next 5 years on High Speed Two (HS2), roads and local transport which, together with Network Rail's investment programme, will deliver the biggest road improvement programme since the 1970s and the largest programme of rail investment since Victorian times
pressing ahead with construction of HS2 beginning this Parliament, providing £300 million development funding for the next generation of transformative transport infrastructure, and £475 million of new funding to support construction of large local transport projects
delivering better value for money for rail passengers by introducing flexible season tickets, ensuring that rail passengers have access to compensation when trains are over 15 minutes late, improving Wi-Fi and mobile connectivity on trains, and freezing rail fares in real terms (RPI) for the course of this Parliament
overall resource savings of 37% by 2019-20, reducing the subsidy paid to rail franchises through reaping the efficiency benefits of competition, and phasing out the TfL Resource Grant, representing a 6% efficiency saving to its annual budget
Department for Transport
£ billion
Baseline
Plans
2015-16
2016-17
2017-18
2018-19
2019-20
2020-21 (2)
Resource DEL (1)
2.6
2.0
2.1
2.2
1.8
*
Capital DEL
6.1
6.3
7.6
8.9
11.4
12.4
Total DEL
8.7
8.3
9.7
11.1
13.2
*
(1) In this table, Resource DEL excludes depreciation.
(2) 2020-21 Resource DEL departmental budgets have only been set for some departments. For the rest, these budgets will be set in full at the next Spending Review.
Security
Economic security requires long-term investment in infrastructure across the country. To protect the UK's national security, the Spending Review doubles funding for aviation security, both in the UK and international airports used by UK nationals.
Long term investment
The government has committed to fully funding the Road investment strategy. Highways England will deliver 112 major roads schemes worth over £15 billion to 2020-21, with an average benefit of £4 for every £1 invested.
Construction will begin on HS2 during the Parliament, and the Spending Review confirms a funding envelope of £55.7 billion in 2015 prices, which will deliver HS2 from London to Birmingham by 2026, and to Leeds and Manchester by 2033. During construction, HS2 is anticipated to support up to 25,000 jobs and up to 2,000 apprenticeships.
The government will also establish a new £300 million Transport Development Fund, supporting development work for transformative transport infrastructure projects. This could include providing development funding for projects such as Crossrail 2 and proposals emerging from the northern transport strategy, following advice from the National Infrastructure Commission. In addition, the government will provide £475 million of investment through the Local Majors Fund which will mean that local areas can bid for funding for projects such as the North Devon Link Road, the A391 in Cornwall, and the Lowestoft Third River Crossing and Ipswich Wet Dock Crossing.
The government will spend more than £600 million between 2015-16 and 2020-21 to support uptake and manufacturing of ultra-low emission vehicles (ULEVs) in the UK, maintaining the global leadership that has seen 1 in 4 of all European electric vehicles built here and keep the UK on track for all new cars to be effectively zero emission by 2040. This investment will save 65 million tonnes of carbon and help deliver the long term answer on urban air quality.
This settlement also commits more than £300 million to cycling investment between 2015-16 and 2020-21. This includes delivering in full the £114 million Cycle Ambition City scheme, with construction of segregated cycle lanes including 115 kilometres in Birmingham and 56 kilometres in Manchester.
Efficiency and reform
DfT will deliver substantial savings through driving increased efficiency in both the core department and its ALBs, including the DVLA's continued move to digital services saving a further £94 million this Parliament, and continued improvements to ticketing technology.
The government will phase out the resource grant made to TfL, which represents 6% of TfL's annual budget, and will support over £11 billion investments in London transport. This grant reduction will save £700 million in 2019-20 which could be achieved through further efficiency savings by TfL, or through generating additional income from the 5,700 acres of land TfL owns in London. The government will also provide TfL with additional financial flexibility, and over time will consider transferring the funding for the TfL Capital Grant as part of the business rate retention reforms.
DfT will release public sector land creating space to build 38,000 homes.
Devolution
The government will continue to devolve significant transport powers to mayor-led city regions, including Greater Manchester, Sheffield City Region, Liverpool City Region, the north-east, Tees Valley and the West Midlands.
Transport Secretary, Patrick McLoughlin said:
This settlement is a great boost for the future of Britain. Faced with difficult decisions on the public finances we could have rolled back our ambition on transport. Instead, we are choosing to invest for the future by increasing capital investment in Britain's transport network by 50% to £61 billion over this Parliament. This will support jobs, enable economic growth and bring our country closer together.

Investing in transport is vital to ensuring the whole of Britain benefits from a growing economy. By massively upgrading our railways and roads, investing in HS2, the Northern Powerhouse, buses and sustainable transport, we are delivering the long-term commitments necessary to provide security and opportunity for working people.
Rail media enquiries
Media enquiries 020 7944 3021
Out of hours media enquiries 020 7944 4292
Switchboard 0300 330 3000
Published 25 November 2015