Press release
Department for Business, Innovation and Skills' settlement at the Spending Review 2015
The Chancellor has published the results of the spending review, including details of the BIS budget over the course of this parliament.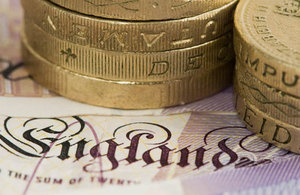 The Spending Review and Autumn Statement delivers on the government's priority to provide security to working people at every stage of their lives. It sets out a 4 year plan to fix the public finances, return the country to surplus and run a healthy economy that starts to pay down the debt. By ensuring Britain's long term economic security, the government is able to spend £4 trillion on its priorities over the next 4 years.
For BIS this means:
prioritising key growth and productivity objectives by protecting science resource funding in real terms, and maintaining Innovate UK support for businesses and funding for aerospace and automotive technologies in cash terms
protecting funding for the core adult skills participations budgets in cash terms creating 5 National Colleges, and providing funding for a real terms protection for the overall STEM subjects in higher education (HE)
delivering 3 million high quality apprenticeships by 2020, compared to 2.4 million in the last Parliament and putting employers in control of funding through a new levy
an overall saving of £2.4 billion in 2019 to 2020, achieved by switching HE maintenance grants to loans, exempting Energy Intensive Industries (EIIs) from the costs of renewables policy rather than paying cash compensation, asking universities to take more responsibility for student access, and finding £360 million in efficiencies and savings in adult skills.
| | | | | | | |
| --- | --- | --- | --- | --- | --- | --- |
| £ billion | 2015-16 baseline | 2016-17 | 2017-18 | 2018-19 | 2019-20 | 2020-21 [2] |
| Resource DEL [1] | 12.9 | 13.4 | 12.3 | 11.7 | 11.5 | * |
| Capital DEL | 3.8 | 3.1 | 2.2 | 1.7 | 1.7 | 1.6 |
| Total DEL | 16.6 | 16.5 | 16.5 | 13.4 | 13.2 | * |
[1] In this table, Resource DEL excludes depreciation.
[2] 2020 to 2021 Resource DEL departmental budgets have only been set for some departments. For the rest, these budgets will be set in full at the next Spending Review.
Long term investment
Science funding of £4.7 billion will be protected in real terms over the Parliament. This will include a £1.5 billion new Global Challenges Fund. The government is also taking steps to ensure these resources are used strategically and effectively through the Nurse Review recommendations and the HE green paper consultation.
The government commits to funding aerospace and automotive technologies for 10 years.
This will provide over £1 billion additional funding for innovation in these sectors.
By 2019 to 2020, government spending on apprenticeships will have doubled in cash terms compared to 2010 to 2011 including income from the new apprenticeship levy. Funding for the core adult skills participation budgets will be protected in cash terms and 5 National Colleges will train an estimated 21,000 students by 2020 in industries central to the productivity agenda such as digital and high speed rail.
The government will provide new financial support through maintenance loans for part-time
HE students, tuition fee loans for higher level skills in Further Education and new loans for postgraduate Master's degrees, reaching £1 billion in 201 to 2020 and benefiting around 250,000 students.
Efficiency and reform
The government has lifted the cap on student numbers to allow more young people, particularly from disadvantaged backgrounds, to go to university than ever before. Universities forecast income growth of £2.3 billion by 2020 from the planned expansion of places for home, EU and international students.
In this context, the government will reduce the teaching grant by £120 million in cash terms by 2019 to 2020, but allow funding for high cost subjects to be protected in real terms. The government will work with the Director of Fair Access to ensure universities take more responsibility for widening access and social mobility, and ask the Higher Education Funding Council for England to retarget and reduce by up to half the student opportunity fund, focusing funding on institutions with the most effective outcomes. The government will also make savings in other areas of the teaching grant.
Implementing the HE maintenance grants-to-loans switch announced at Summer Budget will save over £2 billion a year by 2019 to 2020. This will ensure that universities can remain well funded and allows the numbers of students attending university to remain uncapped, and will also ensure that low and middle-income students have access to more support.
Maintenance loan support will rise for students from low and middle-income backgrounds up to £8,200 a year for those who are studying away from home, outside London. This is the highest level ever.
To reduce government debt, the student loan repayment threshold for Plan 2 borrowers will be frozen until April 2021. The discount rate applied to student loans will be revised to 0.7% above RPI, to bring it into line with the government's long-term cost of borrowing. Taken together, this will reduce the government's estimate of the long-term student loans subsidy to around 30%.
The government will introduce new finance products to support companies to innovate following best practice in countries such as France, Finland and the Netherlands. These will replace some existing Innovate UK grants, and reach £165 million per year by 2019 to 2020, so that total Innovate UK support is maintained in cash terms.
In order to prioritise spending on economic growth, BIS will reduce departmental administration spending by a further £100 million by 2019 to 2020. This will contribute to a wider programme of reform, including further reducing the number of Arm's Length Bodies (ALBs), unlocking efficiencies through increased digitisation and increasing the pace of estates and workforce reform.
Moving from cash compensation to an exemption from the costs of renewables levies will save £410 million a year by 2019 to 2020 while providing greater certainty to EIIs, including the steel industry. At the same time the government will take offsetting action to mitigate the impact on household energy bills.
The government will make £360 million of efficiencies and savings from adult skills budget by 2019 to 2020. In order to prioritise funding for participation, savings are being made from the supporting budgets, such as the UK Commission for Employment and Skills. The government is also restructuring the sector through locally-led Area Reviews to provide sustainable and high quality provision in the future.
Colleges currently receive approximately a third of apprenticeship spending. Key providers, including colleges, will be able to benefit from the significant increase in apprenticeship spending of almost £900 million by 2019 to 2020.
Secretary of State for Business, Innovation and Skills, Rt Hon Sajid Javid, said:
Over the last 5 years we have rescued our economy, but there is still more to do. We are putting Britain's economic security first and that means making further savings to eliminate the deficit.

In the next 5 years we will create even more opportunities for businesses to grow. By increasing productivity and competitiveness we will make Britain the best place in Europe to do business, create a stronger, more resilient economy and provide greater security for working people. By increasing the science budget the UK will remain a world leader in research and innovation, backed up by the right investment in our aerospace and automotive industries.

We will continue to put our businesses in the driving seat by cutting red tape and ensure that they have a workforce with the right skills as we deliver 3 million apprenticeships by 2020.
Published 25 November 2015