News story
Delivering Differently fund supports public service innovation
10 local authorities will receive up to £100,000 funding to help transform their public services.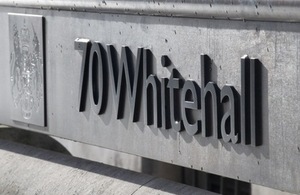 10 pioneering local authorities have been chosen to receive support from the Delivering Differently Challenge. More than 150 local authorities across England applied for the support. The successful applicants demonstrated innovative approaches and showed that they were committed to trying new models of delivering services, eg:
spinning services out into staff-led mutuals
setting up joint ventures with the private sector
working with voluntary and community groups.
The 10 local authorities are:
Wirral Council and Cheshire West & Chester Council (School Support)
Devon County Council (Libraries, Youth and Day Care)
Dover District Council (Heritage)
Kingston upon Hull Council (Social Care)
Kirklees Council Environment (Open Spaces)
Manchester City Council (Domestic Violence)
North East Lincolnshire Council (Environment)
Nottinghamshire County Council (Children's Disability)
Portsmouth City Council (Community Safety)
Walsall Metropolitan Borough Council (Adult Learning)
Walsall Adult and Community College
Walsall Adult and Community College (WACC) is one of the organisations that will benefit. WACC was the first organisation to be judged Outstanding by OFSTED under the new, more rigorous, inspection framework introduced in 2012. They have turned to Delivering Differently to help them diversify and expand their services by developing a new model that provides the flexibility and growth found in the wider education and training sectors.
Dover District Council
Another is Dover District Council – the first local authority in the country to develop a Heritage Strategy. Dover wants to transform the delivery of its museum and tourism service to get maximum value for money, enhance currently untapped sites such as the Napoleonic Western Heights and promote the district as one of the UK's tourist hotspots. It is the first time that a heritage service has considered transforming the way its services are delivered, and future options include creating a heritage co-operative, mutual or trust, to bring together heritage assets managed by a range of providers.
Paul Watkins, Leader of Dover District Council, said:
We are delighted to be one of the 10 successful projects selected for the Delivering Differently Challenge. Dover boasts some of the country's most important heritage assets, and this project will unlock their potential to contribute to economic growth and regeneration, whilst also providing a more sustainable future for these assets.
Delivering Differently
The Delivering Differently Challenge is a joint programme between the Cabinet Office, the Department for Communities and Local Government, the Local Government Association (LGA) and the Society of Local Authority Chief Executives (SOLACE). The programme provides £1 million worth of professional support to help 10 local authorities develop and put in place new models for delivering their chosen service areas.
Minister for the Cabinet Office Francis Maude said:
The entire public sector needs to do more with less while providing services that work better for local people, and I'm pleased that we can support 10 pioneering councils from across the country who want to take control of their services and leave state bureaucracy behind.
Published 24 March 2014