Defra wins EU agreement for farmers on sheep identification
European Member States have agreed to delay individual movement reporting for older sheep.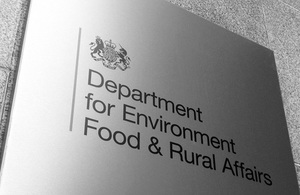 Since 1 January 2010, sheep born in Britain and kept beyond 12 months of age have to be electronically identified to help record when they are moved - for example from holding to market. Today's agreement will mean this won't be required for the 8 million sheep born before this date, until 31 December 2014.
Agriculture Minister Jim Paice said:
"In this economic climate it is not affordable or practical to electronically tag the millions of sheep born before electronic sheep identification was introduced.
"I have been pressing Europe hard to defer the impending individual movement reporting requirement for these older sheep.  I am pleased they have listened to us and farmers by delaying this requirement for three years."
Sheep tagging is important in the management of animal disease. The pre-2010 older sheep can retain their conventional tags, and keepers will be able to continue to record and report their movements as a batch. This delay will give farmers time to decide how they wish to identify and record their older animals.
Without the agreement to delay, farmers would have to either visually collect and record the sheep's tag number on movement documents or retrospectively identify them with electronic tags. This would have cost the industry between £4 to £11.5million over the next three years.
Notes
The proposal tabled following a request by the United Kingdom was agreed at a meeting of the EU's Standing Committee on the Food Chain and Animal Health (SCoFCAH) on 6th December.
There are approximately 8 million sheep in Great Britain that were born before 1 January 2010 and have conventional ear tags.
Since 1 January 2010, one of the tags for sheep to be individually identified has to be electronic, and these EID tag numbers have had to be recorded on movement documents since 1 January 2011. 
This was due to apply to older sheep (pre-1 Jan 2010 sheep) from 31 December 2011.  Today's agreement will mean this will not be required until 31 December 2014 for these older sheep.
Defra is currently considering if in England we can avoid farmers single farm payment being reduced if there are discrepancies in their records caused by sheep EID tags not being read.
Published 7 December 2011