News story
Defence Secretary visits new veterans' housing development in Scotland
Armed forces veterans will benefit from a new £6.7 million housing development in Glasgow.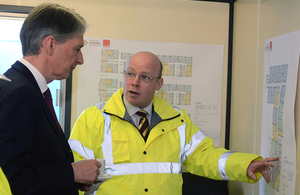 The Secretary of State for Defence Philip Hammond has visited an accommodation facility that will provide UK military veterans with a combination of independent and supported accommodation.
The Cranhill-based accommodation, which opens this summer, will be run by the Scottish Veterans Residences (SVR) charity and aims to help younger veterans – many of whom will have served in Afghanistan and Iraq – who are struggling to make the transition into mainstream housing and civilian life.
Its residents will be provided with training, education, employment and recreation facilities. Working with local authorities and a number of charity organisations, SVR will also coordinate a range of additional services to help younger veterans.
The new housing development will be the first in the west of Scotland for SVR which currently operates veteran housing facilities in Edinburgh and Dundee.
Commenting on his visit to the Cranhill site, Phillip Hammond said:
It has been a privilege to see the important work carried out in Glasgow by Scottish Veterans Residences. Earlier this year we announced £40 million would be invested in life changing accommodation projects for veterans across the UK, building on the £5.5 million we invested last year in Scotland alone.

This funding demonstrates our unwavering commitment to our armed forces and veterans, wherever they are in the United Kingdom, and it is fantastic to see that it is already transforming lives for those who have bravely served our country.
The charity has received housing development funding through Libor fines imposed on banks. Libor funding is one example of armed forces covenant in action. The covenant is about ensuring that service personnel, veterans and their families are not disadvantaged as a result of their service.
Phil Cox, Scottish Veterans' Residences Chief Executive, said:
We are extremely grateful for the £233,000 of Libor funding which we've received so far in helping support the work going on at Cranhill. We hope to receive further support through this generous fund going forward which will be put to great use in helping UK military veterans.

While most people who leave the armed forces are able to successfully make the transition from military to civilian life, some veterans do not adjust well and can experience a range of issues which can lead to homelessness, including joblessness, depression and substance abuse.

The Cranhill development is being built to provide a safety net for them. It also marks our first development in the west of Scotland to help those or veterans who need support through a range of facilities and resources to help them get back on their feet and move on with their lives.
Published 16 April 2014