News story
Defence Secretary pledges to train Syrian Moderate Opposition
In Kuwait today, the Defence Secretary met the senior military figures overseeing the international coalition's response to the ISIL threat.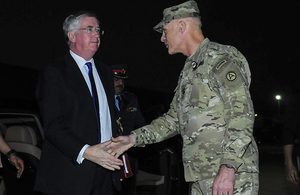 Michael Fallon met with the US Commander of the Combined Joint Task Force Lt General James Terry and the UK Deputy Commander Major General Bob Bruce at Camp 'Arifjan, the Headquarters for anti-ISIL operations.
During talks, Mr Fallon received an update on operational activity against ISIL. He emphasised the UK's position that ISIL must be defeated in both Iraq and Syria and reaffirmed the UK's intention to contribute to a US-led programme to train the Syrian Moderate Opposition at training sites across the Middle East.
Mr Fallon also discussed the UK's significant contribution to the international coalition's air campaign and the training and assistance provided to the Iraqi military.
Defence Secretary Michael Fallon said:
I came here to review progress in the campaign to defeat ISIL with Lt General Terry and Major General Bruce and to consider what more we can do counter its violent ideology.

This is a fight that ultimately can only be won on the ground and we are making a major contribution to assist Iraqi forces. Our aircraft have conducted around 160 strikes and provided vital refuelling capability; and the recently deployed E3-D aircraft will boost the coalition's command and control and surveillance capabilities.

But ISIL must be defeated in both Iraq and Syria. Our actions and surveillance capabilities are freeing up other countries to strike in Syria. I reiterated today that Britain intends to contribute to the coalition's training of moderate Syrian opposition.
Mr Fallon travelled to Kuwait as part of a wider Gulf visit as UK air activity over Iraq increased significantly recently, with RAF Tornados attacking a number of ISIL positions threatening Iraqi ground operations over the weekend. The trip will focus on how countries in the region can continue to tackle extremist groups.
En route to Kuwait, Michael Fallon also met with His Majesty King Abdullah II and the Chairman of the Joint Chiefs of Staff, General Mashal M. Al-Zaben in Jordan to reinforce the UK's commitment to the Jordanian Armed Forces and to explore the country's vision for countering the threat of ISIL to the region.
Published 2 March 2015