News story
Defence reform legislation included in Queen's Speech 2013
Her Majesty The Queen has outlined the government's priorities for the coming parliamentary year.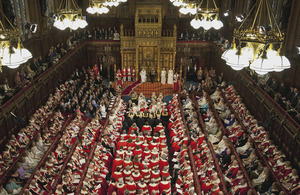 Included in today's speech was the announcement of legislation to improve the way we procure and support defence equipment and to strengthen the Reserve Forces.
Although new legislation is required, the issues it covers are already being explored through the department's wide-ranging Transforming Defence programme.
The legislation will enable MOD to fundamentally change the way it procures and supports defence equipment, making it more efficient and effective whilst maintaining the high levels of equipment support by reforming the Defence Equipment and Support organisation and strengthening the arrangements for procurement.
It will also enable the Reserve Forces to play a greater role in defence and national security.
These measures will enable MOD to deliver significant savings once implemented whilst also ensuring it continues to have a potent fighting force.
See also:
Published 8 May 2013