News story
Decisions following consultation on GCSEs and A levels
Ofqual has confirmed the assessment arrangements for a number of GCSE, AS and A level subjects which will be taught from 2016.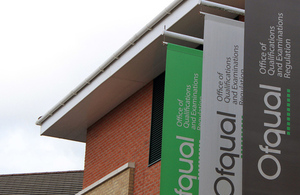 The decisions follow a public consultation on the assessment arrangements for the reformed qualifications. They cover the following reformed GCSE subjects:
Art and design
Computer science
And reformed GCSEs, AS and A levels in the following subjects:
Dance
Music
Physical education
Ofqual has produced a short document explaining the decisions it has taken. The key decisions are summarised below.
Summary of decisions
Ofqual has previously confirmed that new AS and A level qualifications will not be tiered, and that new GCSEs should only be tiered where a single set of assessments cannot in a valid and manageable way assess students across the full ability range. None of the GCSEs included in today's announcement will be tiered.

Ofqual has finalised the assessment objectives for all subjects included in today's announcements.

The balance of exam and non-exam assessment for new qualifications in these subjects is detailed in the table below. The current % is in brackets*.
| Subject | GCSE weighting of non-exam assessment | AS weighting of non-exam assessment | A level weighting of non-exam assessment |
| --- | --- | --- | --- |
| Art and design | 100% (100%) | N/A | N/A |
| Computer science | 20% (25 to 60%) | N/A | N/A |
| Dance | 60% (80%) | 50% (60%) | 50% (55%) |
| Music | 60% (60 to 80%) | 60% (60 to 70%) | 60% (60 to 70%) |
| Physical education | 40% (60%) | 30% (35 to 50%) | 30% (35 to 50%) |
Remaining 2016 subjects
Ofqual and the DfE have also recently consulted in parallel on the content and assessment arrangements for a further group of qualifications planned for first teaching in September 2016. These are:
GCSEs in: citizenship studies, cooking and nutrition, design and technology, drama and religious studies.

AS qualifications and A levels in: drama and theatre, and religious studies.

The results of this consultation will be announced in February 2015.
-ends-
Note
*The existing regulatory requirements for assessment in these subjects were not designed to our current definition of non-exam assessment. Instead they were determined by the amount of 'internal' and 'external' assessment permitted. Therefore, when we describe the current weighting of non-exam assessment, we refer to the amount of assessment that is seen or could be permitted in current qualifications and which falls under our definition of non-exam assessment.
Press office
Press office 0300 303 3342
Out of hours 07798 924 552
For enquiries from journalists only. The press office phone is open weekdays from 9am to 5pm.
Published 26 January 2015