DCMS settlement at the Spending Review 2015
The Chancellor has published the results of the Spending Review, including details of the DCMS's budget over the course of this Parliament.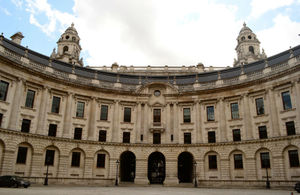 The Spending Review and Autumn Statement delivers on the government's priority to provide security to working people at every stage of their lives. It sets out a 4 year plan to fix the public finances, return the country to surplus and run a healthy economy that starts to pay down the debt. By ensuring Britain's long term economic security, the government is able to spend £4 trillion on its priorities over the next 4 years.
For the Department for Culture, Media and Sport this means:
ensuring continued free access to national museums and galleries as part of a settlement that maintains funding in cash terms for museum, galleries and the arts;
increased central government funding to elite sport to build on the success of the London 2012 Olympic and Paralympic games at Rio 2016 and Tokyo 2020 and a flat cash settlement for grassroots sports funding;
£1.6 billion of capital investment over the next 5 years; and
a reduction in core DCMS administrative costs and reforms including a new operating model for the Royal Parks to ensure a sustainable financial future.
| | | | | | | |
| --- | --- | --- | --- | --- | --- | --- |
| Department for Culture, Media and Sport | | | | | | |
|   | £ billion |   |   |   |   |   |
|   | Baseline | Plans |   |   |   |   |
|   | 2015-16 | 2016-17 | 2017-18 | 2018-19 | 2019-20 | 2020-21(2) |
| Resource DEL (1) | 1.1 | 1.2 | 1.2 | 1.2 | 1.1 | * |
| Capital DEL | 0.4 | 0.4 | 0.4 | 0.4 | 0.3 | 0.2 |
| Total DEL | 1.5 | 1.6 | 1.6 | 1.5 | 1.4 | * |
(1) In this table, Resource DEL excludes depreciation.
(2) 2020-21 Resource DEL departmental budgets have only been set for some departments. For the rest, these budgets will be set in full at the next Spending Review.
Security
Less than 1 per cent of total government expenditure goes to culture, media and sport; sectors which account for almost a sixth of the UK economy.
The UK will provide international support for cultural heritage in global conflict zones, with £30 million ODA funding between 2016-17 and 2019-20 for a new Cultural Protection Fund.
Long term investment
Up to £550 million will be invested over the Parliament to make the 700Mhz spectrum band available for mobile broadband use. The government will complete the £1.7 billion investment into the superfast broadband programme to ensure it is available to 95 per cent of premises by 2017.
To ensure the benefits of digital communications infrastructures are felt across the economy and translated into productivity gains, the government will publish a Digital Transformation Plan in early 2016.
The government will invest £150 million to support the British Museum, Science Museum and Victoria and Albert Museum to replace out of date museum storage at Blythe House with new world-class storage facilities to preserve and protect over 2 million fragile and sensitive objects.
The government will work with museums and galleries to explore the case for introducing a new tax relief for the sector.
The government confirms £20 million investment to expand the Great Exhibition of the North and to create a new Great Exhibition Legacy Fund.
Reform
The government will provide sufficient funding to ensure that the new English Heritage commercial model which went live earlier this year can be successfully implemented.
The government will make permanent the operational freedoms for national museums announced at Spending Review 2013, which will be extended to other public institutions including the British Film Institute (BFI), the National Army Museum, the National Museum of the Royal Navy, the Royal Air Force Museum, Historic England and the Churches Conservation Trust. This measure enables these important institutions to become more self-sufficient and continue providing efficient and high quality services.
Secretary of State for Culture, Media and Sport John Whittingdale said:
This is an excellent settlement that highlights the great contribution of our sectors in creating jobs and helping grow the economy.

The extra £40 million for English tourism will boost visitor numbers in towns and cities, our national museums will remain free to enter and we will continue to preserve our cherished heritage sites for generations. Our continued investment will also help support the artists and sports stars of tomorrow.

I look forward to working with all the DCMS sectors that play such a positive role in British life.
Published 25 November 2015