News story
DCMS Permanent Secretary announces his departure
Jonathan Stephens praises his department's work which 'inspires and excites us'.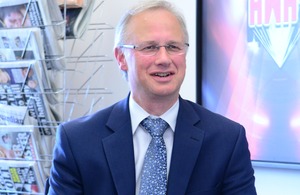 As the longest-serving Permanent Secretary in the department since it was established in 1992, Mr Stephens said "it is the right time for me to move on".
Mr Stephens said we was "immensely proud" of the civil servants in his department and described DCMS as a "department to be valued and cherished".
"DCMS deals with so much of what inspires and excites us, and defines us in the world," said Stephens. "And the Ministers and civil servants I've worked with here have brought real dedication, passion and talent to the work."
Mr Stephens will leave the department at the end of July and is currently considering "a number of interesting possibilities for what I will do next".
Read more in Jonathan's farewell blog.
Published 14 May 2013