News story
DCMS joins the 30% Club
The department leads the way in gender equality.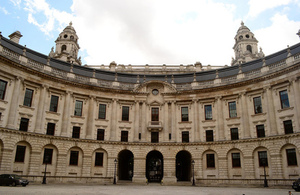 At an annual reception to mark the 30% Club's Chair supporters, Minister for Women, Nicky Morgan announced that DCMS has joined the 30% Club.
The 30% Club was set up by Helena Morrissey, CEO of Newton Investment Management, in 2010, in an effort to improve gender balance at senior levels through a business-led approach. To achieve this, the Club has sought the support of company Chairs. They are the people who have the power to change the shape of their own boards. DCMS has helped the Club reach 102 Chair supporters.
Nicky Morgan said:
I am delighted that DCMS has joined the 30% Club. The most effective boards tend to involve both men and women playing a full part. Diverse boards bring fresh perspectives, new ideas, new skills, experience and better decision making.

The 30% Club makes an important contribution to accelerating the progress of women on boards and removing the barriers that hold women back at all levels. There are now no FTSE 100 all-male boards, compared to 21 three years ago and 22.2% of Directors are female. This progress, led by business, is very welcome. We will continue to support employers who put the right measures in place in supporting women and I encourage all business leaders to keep up their efforts.
The DCMS board is leading by example. 62 per cent of the board consists of women, which include three ministers, the Permanent Secretary and two Non-Executive Board Members, Dr Tracy Long and Ruby McGregor-Smith, both prominent women in their fields.
Permanent Secretary for DCMS, Sue Owen said:
Both men and women benefit when gender equality is practiced in the workplace. And diversity in the boardroom is a proven driver of corporate performance. Promoting equality is not difficult but it takes the commitment of senior managers to take action. I am delighted that we have joined the 30% Club and l look forward to working with them.
Helena Morrissey CBE, CEO of Newton Investment Management and Founder of the 30% Club, said:
As the largest employer in the UK, the public sector has an incredibly important role to play in accelerating change. Given its size and scope, the public sector can be at the forefront of developing initiatives for change and promoting gender balance, and with the welcome support of the Department for Culture, Media and Sport, coupled with the workstreams already underway from the 30% Club, I am confident we will move closer to our 30% target over the coming months and catalyse a wider movement for change.
Published 2 July 2014