Press release
Data release provides platform for rail fare web apps
Fares database now available for free through Association for Train Operating Companies' website.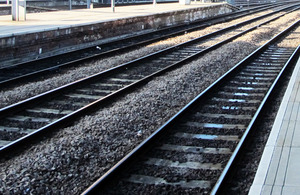 Rail passengers can access free up-to-date information on the best ticket deals following the publication of comprehensive fare data, Transport Minister Norman Baker announced today (19 February 2013).
The fares database, which had previously only been available under a paid-for licence, can now be accessed for free through the Association for Train Operating Companies' (ATOC) website following discussions between the Department for Transport and the trade association.
The publication is in line with the government's push for greater transparency around data, and is necessary for the development of price comparison websites and mobile phone apps for the benefit of customers.
Transport Minister Norman Baker said:
The government is committed to providing greater clarity around information and the publication of this comprehensive fare data is a vital first step in providing passengers with a platform to make more informed ticket choices.

In industries where this information has been made available previously we have a seen a raft of price comparison websites and mobile apps developed and I am confident we will see the same results here.

It is now down to private sector companies to seize this opportunity and I encourage them to start working on products which can provide real benefits to both passengers and the market.
Steve Howes, Managing Director of Rail Settlement Plan (RSP), said:
The way people access information about and buy all sorts of services is changing. Train companies have decided to make their fares data available to developers to enhance further the ability of passengers to access accurate information and find the right ticket at the right price.

Providing this data for free is the latest step in a decade-long process that has seen the rail industry make more information publicly available than other transport sectors in this country and other railways overseas. Rail passengers in Britain now enjoy access to information on fares and timetables that is unrivalled elsewhere in the world.
The fares database provides a comprehensive breakdown of the range of fares available between different locations and follows on from the widespread release of timetabling information for free by the industry at the end of 2011.
Notes to editors
At the Transport Transparency Board in November, the rail industry announced its plans to publish the fares database as open data from first quarter 2013. This was the result of dialogue between the DfT, the rail industry and TOCs.
The information has been released in line with the government's transparency and open data agenda.
It is available via the industry data section of the Association of Train Operating Companies (ATOC) website where users can register and then download the data. Re-use of the data is governed by a Creative Commons Open Licence.
Press enquiries: 020 7944 3108
Out of hours: 020 7944 4292
Public enquiries: 0300 330 3000
Published 19 February 2013