Darwin's home and workplace World Heritage nomination deferred by UNESCO Committee
UK's nomination for the workplace and home of Charles Darwin to join UNESCO's international list of World Heritage Sites deferred today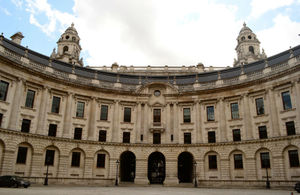 The nomination was deferred by the World Heritage Committee for further in depth assessment, Culture Secretary Jeremy Hunt announced.
The bid for Darwin's Landscape Laboratory, situated in the London Borough of Bromley includes Charles Darwin's house, experimental garden and the countryside immediately around his property. It was here that Darwin developed and demonstrated his theory of evolution by natural selection, through the study of plants and animals in natural settings and under human management. He also undertook various scientific investigations over a period of forty years at the site, after his round-the-world voyage on HMS Beagle in the 1830s.
At its meeting in Brasilia, Brazil the World Heritage Committee announced that although Darwin's Landscape Laboratory was very strong in terms of recognising scientific achievement, further in depth study and analysis was needed before the site could be considered for World Heritage designation. The Committee voted to defer the nomination back to the UK authorities for these issues to be addressed.
Jeremy Hunt said:
"Whilst this is disappointing for all those involved in taking this nomination forward, the World Heritage Committee's decision has given the bid partnership the opportunity to re-visit this nomination and to look at ways in which the case might be strengthened for re-nomination in the future.
"However I'm pleased the Committee has recognised the value of the site not only in terms of historical interest, but the celebration of achievements in science, paving the way for including a greater representation of the heritage of science and technology on the World Heritage List."
Notes to Editors
Darwin's Landscape Laboratory is the site where the modern scientific study of natural life was pioneered with the development of the theory of evolution by natural selection. It is an intimate farmed valley landscape surrounding Charles Darwin's home at Down House in the Kent North Downs. Charles Darwin walked in the Downe and Cudham valleys every day and studied them intensely for the forty years of his scientific maturity. Many landscape features bear unique witness to the evidence he collected for his world-changing ideas in the natural sciences that were developed at Down House.  

Following a five year voyage around the world on HMS Beagle including five weeks observing and collecting on the Galapagos Islands in the Pacific, Darwin settled in London and then in 1842, moved 16 miles south to Down House to cater for his growing family. The surrounding farmed landscape and its varying geology and soil types also enabled him to access, via numerous footpaths and lanes, a wide variety of plants and wildlife, the raw materials for his research and scientific work. Finding all that he needed for his science he seldom left the locality until his death in 1882. The farmed landscape, together with Down House and its gardens were thus his workplace for his greatest period as a scientist.

The farmland and woodland management of the two small valleys linked by high ground has been sustained since Darwin's time. There are no main roads or railway stations in the area and it has escaped much of the 20th century development associated with London's hinterland.  The landscape and buildings remain remarkably unchanged since Darwin's death. 

Darwin's evolutionary understanding of human origins set out in The Descent of Man and The Expression of the Emotions in Man and Animals were both written at Down. They explained our shared ancestry with animals and made a strong case for the unity of the human races.

The concept of World Heritage Sites is at the core of the World Heritage Convention, adopted by UNESCO in 1972, to which 180 nations belong. Through the Convention, UNESCO seeks to encourage the identification, protection and preservation of the cultural and natural heritage around the world considered to be of outstanding value to humanity. The Convention required the establishment of the World Heritage List, under the management of an inter-governmental World Heritage Committee as a means of recognising that some places, both natural and cultural, are of sufficient importance to be the responsibility of the international community as a whole. As a member of the Convention, States Parties are pledged to care for their World Heritage sites as part of protecting their national heritage.

Nominations for inscription on the World Heritage List are made by the appropriate States Parties. They are subject to rigorous evaluation by expert advisers to the World Heritage Committee: The International Council on Monuments and Sites (ICOMOS) for cultural sites and/or the World Conservation Union (IUCN) for natural sites. Decisions on the selection of new World Heritage Sites are taken by the World Heritage Committee at its annual summer meetings. There are currently 890 World Heritage Sites in 148 States Parties. Some 689 are cultural sites, 176 are natural and 25 are mixed.

Inclusion in the World Heritage List leaves the existing rights and obligations of owners, occupiers and planning authorities unaffected.  A prerequisite for World Heritage Site status is, nevertheless, the existence of effective legal protection and the establishment or firm prospect of management plans agreed with site owners to ensure each site's conservation and presentation.

Darwin's Landscape Laboratory was submitted by the Government in 2009 as a site which exemplifies the heritage of science to answer the World Heritage Committee's 2005 call to address a gap in the World Heritage List.  In January 2008 the UK hosted an expert meeting in London which brought together experts from 15 countries worldwide in the fields of science, World Heritage and the UNESCO World Heritage Convention to develop a framework for the identification and recognition of sites of interest for the heritage of science and technology, which are of outstanding universal value, on the World Heritage List. Conclusions and recommendations from the Workshop were welcomed by the Committee at its 32nd session in Quebec in July 2008.

The UK's World Heritage Sites are currently:
Castles and Town Wall of King Edward in Gwynedd, inscribed 1986
Durham Castle and Cathedral. inscribed 1986
Giant's Causeway and Causeway Coast, inscribed 1986
Ironbridge Gorge, inscribed 1986
St Kilda, inscribed 1986 (extended 2004, 2005)
Stonehenge, Avebury and Associated Sites, inscribed 1986
Studley Royal Park including the Ruins of Fountains Abbey, inscribed 1986
Blenheim Palace, inscribed 1987
City of Bath, inscribed 1987
Frontiers of the Roman Empire, inscribed 1987 (Hadrian's Wall); extended 2005 (Upper German-Raetian Limes); extended 2008 (Antonine Wall)
Palace of Westminster, St Margaret's Church and Westminster Abbey, inscribed 1987
Canterbury Cathedral, St Augustine's Abbey and St Martin's Church, inscribed 1988
Henderson Island, inscribed 1988
Tower of London, inscribed 1988
Gough and Inaccessible Islands, inscribed 1995 (extended 2004)
Old and New Towns of Edinburgh, inscribed 1995
Maritime Greenwich, inscribed 1997
Heart of Neolithic Orkney, inscribed 1999
Blaenavon Industrial Landscape, inscribed 2000
The Historic Town of St George and Related Fortifications, Bermuda, inscribed 2000
Derwent Valley Mills, inscribed 2001
Dorset and East Devon Coast, inscribed 2001
New Lanark, inscribed 2001
Saltaire, inscribed 2001
Royal Botanic Gardens, Kew, inscribed 2003
Liverpool - Maritime Mercantile City, inscribed 2004
Cornwall and West Devon Mining Landscape, inscribed 2006
Pontcysyllte Aqueduct and Canal, inscribed 2009
Press Enquiries: 020 7211 2210
Out of hours telephone pager no: 07699 751153
Public Enquiries: 020 7211 6000
Published 2 August 2010