Press release
Dangerous dogs: tougher penalties for irresponsible dog owners
The government is asking for people's views about whether current penalties for dog offences are severe enough.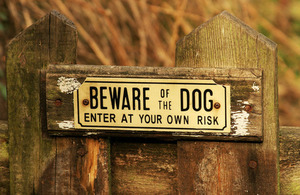 Read up-to-date information on dangerous dogs
(This press release was published on 6 August 2013 and has not been updated since)
Irresponsible dog owners who allow their dogs to attack members of the public could face longer jail terms.
16 people have been fatally attacked since 2005 but the owners of dangerously out of control dogs can only be sent to jail for a maximum of two years.
As part of the government's plans to clampdown on dangerous dogs, the public are now being given the chance to have their say about whether dog owners should be given harsher sentences when their dogs attack and cause serious or fatal injuries.
Animal welfare minister Lord de Mauley said:
Dog attacks are terrifying and we need harsh penalties to punish those who allow their dog to injure people while out of control.
We're already toughening up laws to ensure that anyone who owns a dangerous dog can be brought to justice, regardless of where a dog attack takes place. It's crucial that the laws we have in place act as a deterrent to stop such horrific incidents.
In February the government announced that it would introduce new measures to tackle out of control dogs by changing the law to ensure that irresponsible owners can be prosecuted regardless of where their dog attacks.
The consultation will run from 6 August to 1 September. The results of the consultation will be used to inform the recommendations put forward in the Anti-Social Behaviour, Crime and Policing Bill.
Photo above Copyright iStockphoto/Thinkstock.
Published 6 August 2013