Press release
Damian Green: child cruelty law to be updated
Children will be better protected under new plans to update child cruelty law, Justice Minister Damian Green announced today.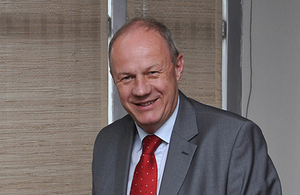 The change will make clear that it is a crime to inflict cruelty which is likely to cause psychological suffering or injury to a child. Offenders will face a maximum sentence of 10 years in prison whether the harm is physical or psychological in nature.
The existing child cruelty law already allows cases to be brought for neglect, ill-treatment, abandonment and other forms of cruelty to children but the current law does not make it clear that this also includes cruelty likely to cause emotional harm.
Justice Minister Damian Green said:
It is vital that we do all we can to protect all children from harm and enable them to grow up in a safe environment.

This is why we are clarifying the criminal law on child cruelty to make it absolutely clear that children who are subjected to cruelty likely to cause psychological suffering or injury are protected by the law.

These changes will ensure that all agencies working with children, including the police, social services and prosecutors can work effectively with one another to protect children from emotional harm.
The changes have been supported by children's charities and campaigners, who have been consulted during development of the plans.
Action for Children's Chief Executive Sir Tony Hawkhead said:
Today marks a monumental and overdue step forward for children and our efforts to protect them from severe emotional abuse.

Children who are made to feel worthless, powerless and unloved by their families will now have the law on their side.

We are one of the last countries in the western world to recognise this form of child cruelty – the time for change is long overdue. Emotional abuse can create permanent scars, leading to mental health problems and, in extreme cases, to suicide. This legislation will change lives.

We have established a cross-party implementation group of MPs, who, moving forward, will work with us and the Government to determine how the new law will be delivered in practice.
The planned update to the law will be made in the new Serious Crime Bill announced today.
Individual cases will continue to be decided by the courts, based on the full facts presented to them.
Notes to editors
The existing criminal offence of child cruelty is set out in section 1 of the Children and Young Persons Act 1933. It provides that any person aged 16 or over who has responsibility for a child under that age commits an offence if he wilfully assaults, ill-treats, neglects, abandons, or exposes that child (or causes or procures them to be so treated) in a manner likely to cause him unnecessary suffering or injury to health.
615 offenders were found guilty in 2012 of offences under section 1 of the Children and Young Person's Act 1933, of which 605 were sentenced.
The government will take forward a clause (c61) in the Serious Crime Bill which will:

make it absolutely clear that conduct which causes psychological suffering or injury is covered under section 1 of the 1933 Act.
modernise the language in section 1, by replacing outdated references to 'mental derangement' and 'misdemeanour'.

The police (working with other relevant agencies such as social services as necessary) will investigate whether an offence has been committed. Where the investigation results in the case being referred to the CPS, it would be for the CPS to decide in light of the available evidence and applying the test set out in the Code for Crown Prosecutors whether to prosecute. However, as for all criminal trials, it will be for the jury or magistrates to determine whether the offence has been committed, and each case will looked at on a case by case basis.
Published 6 June 2014