News story
D-Day veteran dusts off top-secret equipment
An RAF veteran has visited Bletchley Park to see the top-secret kit he used to direct aircraft over Normandy following the D-Day landings.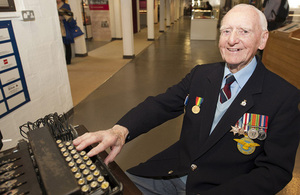 Ahead of the D-Day 70th Anniversary in June, retired sergeant Bernard Morgan went to see the once-classified Type X machine at the Bletchley Park heritage site in Buckinghamshire. While there, the 90-year-old veteran met one of his modern day equivalents, Flight Lieutenant Vikki Thorpe, an RAF aerospace battle manager.
In the summer of 1944, Sergeant Morgan had used the Type X machine to encrypt highly sensitive messages that told RAF aircraft where they were needed for immediate action.
The RAF's air superiority before, during and after D-Day was pivotal because it meant the Allied invasion could take place largely unchallenged from above by the Luftwaffe or by U-boats from below.
The Type X machines were large and heavy, requiring 4 men to carry them, and needed a lorry each to transport and power them.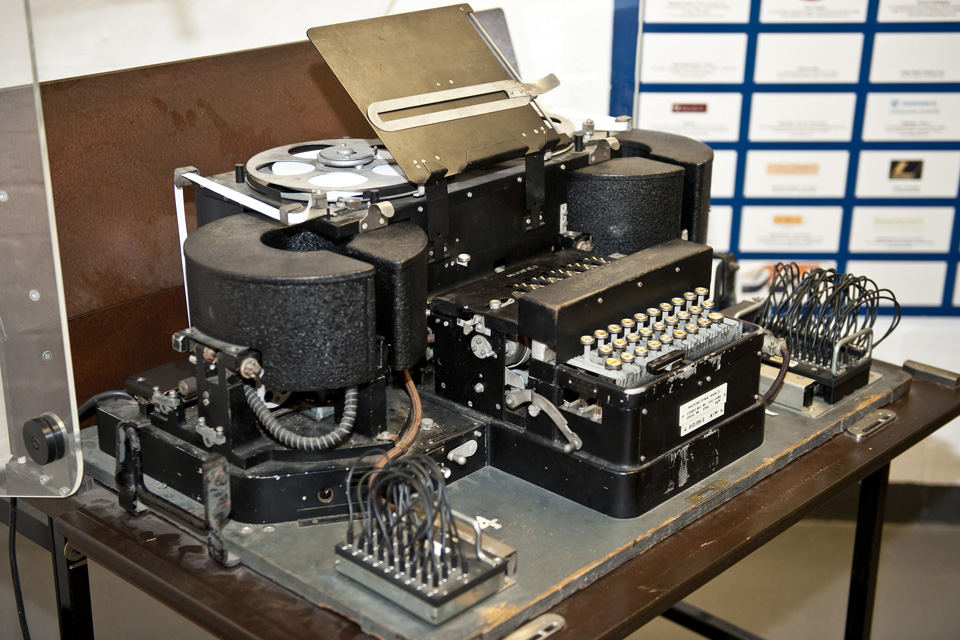 Sergeant Morgan said:
I was a 20-year-old code and cipher operator in June 1944 and my unit was No 83 Group Control Centre, part of the 2nd Tactical Air Force.

The first 3 days after D-Day, 6 June, we were on a ship moored a few hundred yards off Gold Beach. We couldn't start operating our equipment because the army hadn't advanced quite as far as they'd wanted to.

Our equipment was so highly sensitive that we couldn't risk it being captured by the enemy, otherwise everything on our unit would have to have been destroyed.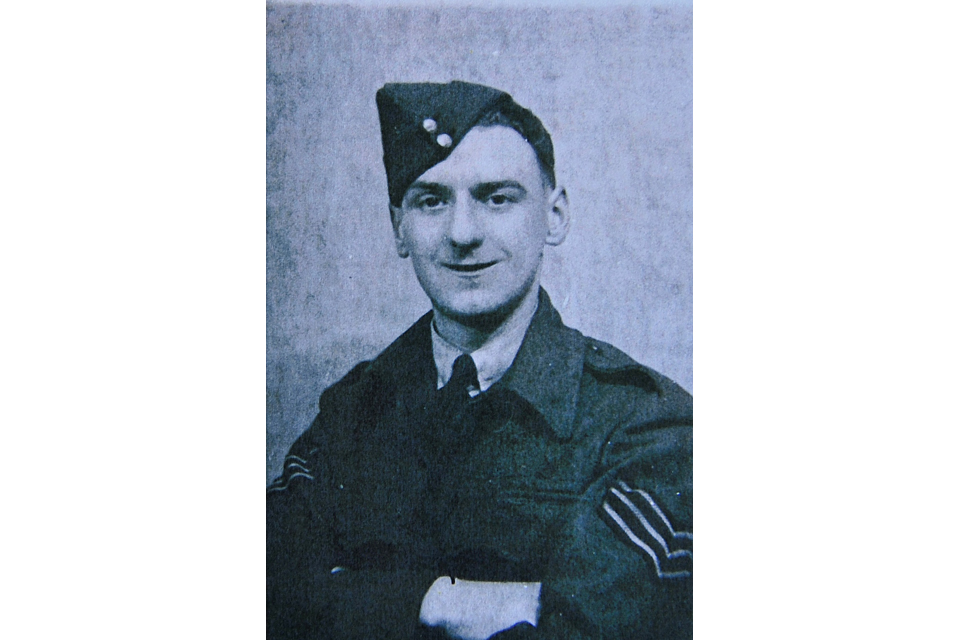 Going ashore, I was very frightened. You'd heard and seen all the gunfire from the beaches overnight and you did not know what to expect. Everyone was frightened, because you didn't know what you were going into.

When I look back on it, I feel very satisfied with my contribution towards the war effort, but it was only a small effort and the greatest honour must be given to the pilots.
Sergeant Morgan's crucial work is still done today by specialist RAF aerospace battles managers such as Flight Lieutenant Thorpe. They use powerful, high-tech radars on the ground to give them a picture of all aircraft within UK airspace and can deploy to wherever they are needed across the globe.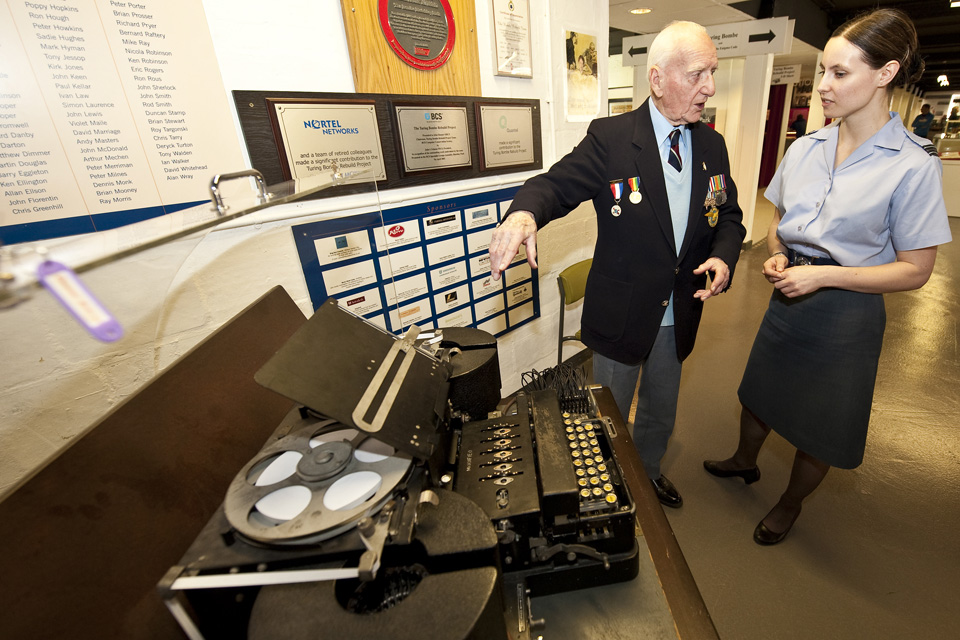 There are 3 types of aerospace battle manager: weapons specialists, who direct combat aircraft in their fighting role; surveillance specialists, who monitor the skies; and space specialists, who look outside our atmosphere to warn of missiles and hostile intelligence-gathering satellites.
They are also ready to launch Typhoon jets at a moment's notice to intercept unidentified aircraft, helping the RAF defend the UK 24/7, 365-days-a-year.
The veteran paid credit to his latter-day counterpart:
Flight Lieutenant Thorpe's job today sounds a lot more technical than a code and cipher operator's role, and I'm sure there's a lot more responsibility too! People like her are a credit to the Royal Air Force.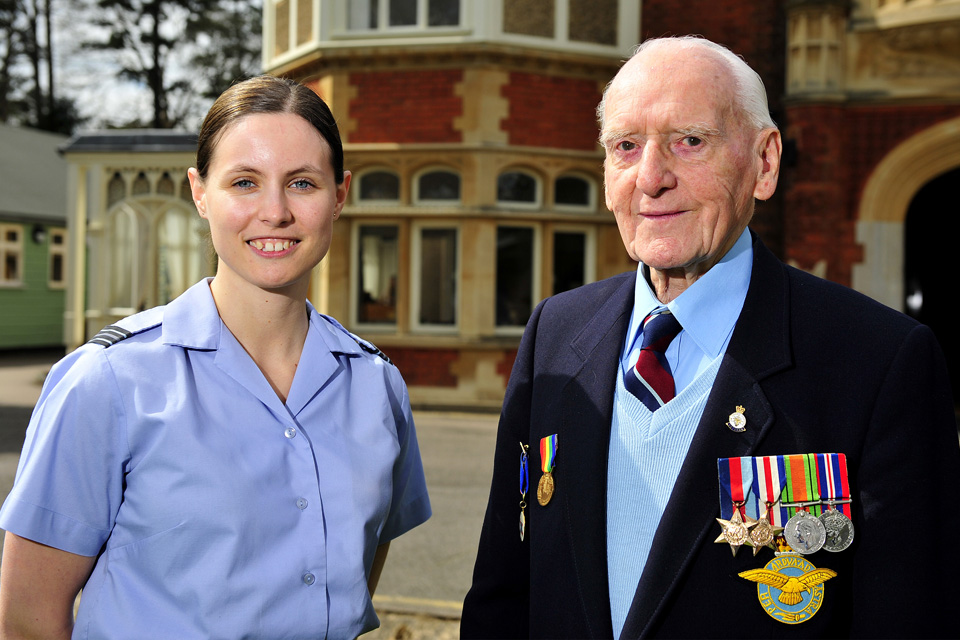 Flight Lieutenant Thorpe said:
Meeting Sergeant Morgan was absolutely brilliant. It's quite remarkable to hear the story of someone involved in D-Day from the person themselves, rather than a history channel. It was amazing.

Hearing about his role was really interesting. While the equipment he used is radically different to what we use today, the processes are very much the same.

It's about making sure that air support is available to ground troops, and ensuring they can communicate with each other is still very much alive and something that we're doing around the world today.
Published 15 April 2014