News story
CV30 report published
Man overboard from a commercially operated yacht approximately 1500nm west of Fremantle, Australia with the loss of 1 life.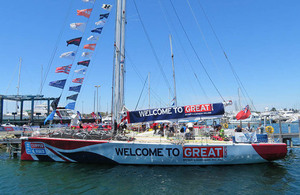 Our report on the fatal man overboard from the yacht CV30 during a round the world race on 18 November 2017, is now published.
The report contains details of what happened, the subsequent actions taken and recommendation made: read more.
Statement from the Chief Inspector of Marine Accidents
Today's report provides a balanced and accurate account of what happened on that tragic day. Those who were there have confirmed this.

Nobody sets out to be involved in a serious accident. In all of our investigations, it is our role to examine the events themselves, but also the wider circumstances, processes and culture that have led to an accident so that we can make recommendations to prevent the same happening again.

Over the course of four investigations my inspectors have gained significant insight into the challenges faced by the skippers and crews of Clipper Ventures' yachts. Today's report highlights further areas in which safety improvements can be made to make the race safer for all future participants.

There is an important lesson for the wider yachting community too. Safety tethers form an invaluable defence against falling overboard, but care must be taken when deciding where on board to secure them.
Press enquiries
Press enquiries during office hours 01932 440015
Press enquiries out of hours 020 7944 4292
Published 20 June 2019