Perinatal counselling: early intervention for new and expectant mothers
How MumsAid's perinatal counselling service is supporting mothers experiencing mental health difficulties.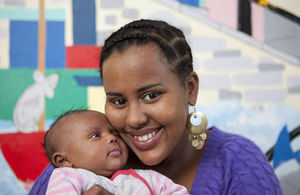 Summary
MumsAid, a not-for-profit organisation, has developed an inclusive and accessible one-to-one counselling intervention for mothers experiencing mental health difficulties during or after pregnancy.
The service is provided at children's centres across the Royal Borough of Greenwich in London and aims to reach women who might not usually take up psychological support services.
Since its inception, MumsAid has delivered a growing programme of support for women during the perinatal period which includes:
psychological therapy
Young MumsAid for 16 to 19 year old mums
telephone support
home visiting by trained peer volunteers
training for frontline staff in postnatal depression awareness
clinical supervision
What was involved
With a rapidly increasing birth rate, and with postnatal depression affecting an estimated 1 in 5 new mothers, there is a significant challenge to maternal mental health care provision in the Royal Borough of Greenwich.
Mental health issues can impact on a mother's ability to bond with her baby and be sensitive and attuned to the baby's emotions and needs. This can affect the baby's ability to develop a secure attachment.
Following a successful pilot, MumsAid was set up to provide one-to-one counselling for mothers experiencing a broad spectrum of perinatal mood disorders during pregnancy or postnatally.
Children centres were selected as the ideal venue to offer a non-stigmatising service that would reach women who might not usually take up psychological support. Ensuring that centres could offer crèche support alongside the counselling was a factor in the decision around which centres were chosen.
Leaflets were designed to publicise the service as support for those 'coping with a baby', rather than as mental health support, to reduce the stigma around mental health issues.
MumsAid also created a website and a social media presence on Facebook and Twitter to reach out to women who might not be in contact with other services.
The service was provided initially in 2 children's centres and has gradually expanded to 7. The 7 centres now offer a total of 23 appointments each week.
Mothers are initially seen on a weekly basis but, once the counselling relationship is established and providing the mother is not in crisis, sessions can be spread out at longer intervals.
Miriam Donaghy, founder and clinical director of MumsAid said:
The right support makes a difference, not just to mothers, but also to the healthy emotional development of their babies, and this is why MumsAid are committed to sustaining and developing the services we offer.

We are really pleased with our progress so far, but we know from a recent national survey that less than half of women who experience postnatal depression seek help, so there is a long way to go to make the support we offer available to any mother who needs it.
What works well
Each mother is able to attend for up to 12 sessions. A follow-up session is offered at 3 months after the 12th session. As the service evolved, a second follow up is now offered at 6 months after the final session.
Operating in this way allows the service to 'hold' more mothers at one time and keep waiting lists down. It also allows the team to track whether the improvements made are being sustained.
Evaluation has shown that the counselling service is successful in:
attracting women from harder to reach client groups
improving mental well-being
The women who received a service were from an ethnically and socially diverse group. Half of the women attending were not White British and there were many mothers with complex and multiple difficulties including families who were already subject to child protection plans.
Improvements achieved in the mother's levels of depression have been particularly pleasing, especially as many of these mothers had multiple and complex difficulties affecting their mental health.
On the Edinburgh Postnatal Depression Scale there were several positive points to note:
the individual score improved for all mothers who had completed counselling
the mean score fell from 18.02 on the pre-service questionnaire to 9.05 on the post-service questionnaire
85% of mothers moved to below the depression threshold of 11
Service user feedback is consistently very high as is feedback from referrers.
Counselling is effective for those mothers who had bonding difficulties. Overall, 61.5% of mothers reported either that this was no longer the case or that there had been considerable improvement in their post-service questionnaire.
Likewise, there was a marked improvement in the post-service questionnaire for all mothers who identified confidence in their parenting as an issue in their pre-service questionnaire.
Main learning points
Postnatal depression covers a multitude of difficulties and the current recommended evidence based approaches are often suitable to one client group and not another.
This service needs to be managed by someone knowledgeable about the variations of perinatal mood disorders so that they are able to assess and allocate to a counsellor with the appropriate skills to deliver:
interpersonal therapy for depression
cognitive behavioural therapy (CBT)
informed approaches for more anxiety based disorders
treating post-traumatic stress disorder
It is also important to have good links with local services and other agencies so that the support doesn't have to end after a relatively short term of counselling. Thought should be given to follow up support from the beginning.
Next steps
The next step is to ensure that the counselling service can be further developed and sustained. In particular, our Young Mums service is only funded for another year. There have been 2 big challenges to address around this. The first is trying to get perinatal mental health services seen as a priority that should be properly funded. The service relies heavily on volunteers and pro bono work.
The other challenge has been to have a voice as a third sector organisation. There continues to be an assumption that third sector organisations cannot hold the expertise that they often do. As a result there are additional barriers to getting recognition and funding from clinical commissioning groups.
Further information
Contact Miriam Donaghy on 07758 763908 or Miriam@mums-aid.org.
Published 12 May 2016