News story
Coventry to receive £64 million for new streetlighting
Most of Coventry's streetlighting is to be replaced.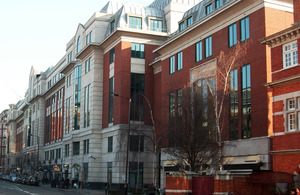 Coventry is to benefit from over £64 million to replace the majority of its street lighting, Regional and Local Transport Minister, Norman Baker, announced today.
Following contractual arrangements being finalised today this Private Finance Initiative (PFI) funding is expected to deliver:
Installation of nearly 28,000 new lighting columns within the first five years;
Replacement of nearly 6,000 illuminated traffic signs and bollards;
Reduction in energy consumption and CO2 emissions of 38%; and
The provision of state of the art technology which will enable Coventry City Council to have a flexible approach to street lighting and to be pro-active with early detection of defective lighting.
Regional and Local Transport Minister Norman Baker said:
This is very good news for Coventry. Better lighting means a reduction in the fear of crime, less light pollution and a safer, more user-friendly night time environment for everyone.
This project, which is being delivered using Private Finance Initiative funding, will deliver real benefits to residents, motorists and pedestrians alike. Partnerships like this provide a framework for investment in much-needed improvements in our local public services and communities.
The council has signed individual PFI contracts with Balfour Beatty. It is expected work will commence later this year.
Notes to editors
This project is being promoted by Coventry City Council. The main objectives of the project are as follows:
achieve modern lighting and high quality service standard;
improve the perception of street safety and security by reducing street crime and fear of night time crime;
improve road safety, in particular by reducing the incidence and severity of night-time accidents;
to protect the environment by optimising energy efficiency and minimising light pollution;
to encourage walking, cycling and use of public transport as alternatives to private car use
to create a quality environment for local people, business and visitors;
to increase leisure and commercial activity after dark to enhance the vitality of the city;
to aid and sustain community regeneration; and
to enhance the profile of priority neighbourhoods, key routes and landmark buildings.
Further information can be located
PFI credits support the capital element of the project. They are funded through revenue support which is paid as Special Grant.
A full list of endorsed Local Government PFI schemes are available on the HM treasury website
Press enquiries: 020 7944 3118
Out of hours: 020 7944 4292
Public enquiries: 0300 330 3000
Published 3 August 2010