Press release
Councils help get Britain building
Housing Minister Brandon Lewis announces extra investment for councils to help them build new affordable homes across the country.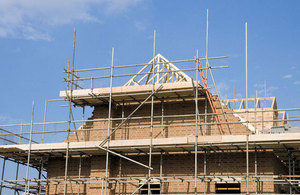 More than 3,000 affordable homes will be built by councils across England thanks to government investment of £222 million, says Mr Lewis.
The second round of funding via the housing revenue account (HRA) borrowing programme means 21 councils will be able to additionally borrow almost £100 million over the next 2 years to deliver more than 1,300 new affordable homes and support local growth.
It comes only a matter of months after 22 councils received approval to borrow £122 million to build more than 1,700 affordable homes in their areas.
This takes the total to £222 million government investment to deliver over 3,000 affordable homes.
Building more affordable homes
Housebuilding is a central part of the government's long-term economic plan: since 2010 over half a million new homes have been delivered, including more than 200,000 affordable homes.
In 2012, the government reformed the HRA subsidy system so councils keep all the rents they collect from their homes, and receipts from sales of houses or land, giving them the freedom to invest them in building new homes.
Most recently, council housing starts have hit a 23-year high.
Housing Minister Brandon Lewis said:
Today (23 December 2014), I'm giving extra borrowing powers to 21 councils who over the next 2 years will use that to build more than 1,300 new affordable homes for their communities.

It's one of the many things we've done that have got Britain building – with housebuilding levels now at their highest since 2007 and climbing.

This takes the total amount of government funding to almost £222 million helping to build more than 3,000 homes – it is encouraging to see councils seizing this opportunity to make use of the very powers they had asked for.
Further information
Ministers are clear that the programme is a responsible way to offer councils extra borrowing powers, but confirmed there were no plans to remove borrowing limits as any extra council borrowing would count as additional public debt at a time when the government's clear priority is to cut the deficit.
See a full list of the round 2 councils receiving additional borrowing powers. A total of 36 councils have now received additional borrowing powers (some councils bid in both rounds with 22 councils successful in the first round and 21 successful in the second round).
Borrowing and house building under the HRA.
|   | HRA 2015/16 | HRA 2016/17 | Total HRA additional borrowing | Homes |
| --- | --- | --- | --- | --- |
| Round 1 | £59,390,783 | £63,461,840 | £122,852,623 | 1,734 |
| Round 2 | £30,695,764 | £68,050,195 | £98,745,959 | 1,353 |
| Total | £90,086,547 | £131,512,035 | £221,598,582 | 3,087 |
Office address and general enquiries
2 Marsham Street
London
SW1P 4DF
Contact form http://forms.communiti...
General enquiries: please use this number if you are a member of the public 030 3444 0000
Published 23 December 2014