Press release
Consumers put off by high delivery courier charges
Jo Swinson hosts summit with industry, consumer groups and couriers to look at how to make delivery charges clearer when buying goods online.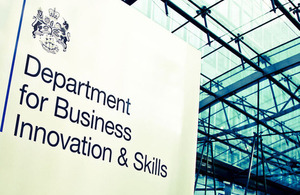 Consumer Minister Jo Swinson is hosting a summit with industry, consumer groups and couriers today (26 November 2013), which will look at how to make delivery charges clearer for people buying goods online.
This comes as research from the independent consumer group, Consumer Futures, shows that consumers living in remote areas of the UK are abandoning their online purchases because of unexpectedly high delivery charges.
Earlier this month, the industry association for global e-retailing, Interactive Media Retail Group (IMRG), which represents the UK online retail industry, forecast that the cost to business as a result of consumers abandoning their online purchases will be £6 billion in lost revenue in 2013 alone.
Other findings from the Consumer Futures report include:
customers in remote and island areas face extra delivery costs or discover that companies will not deliver to them
46% of online shoppers in remote areas have been promised free delivery only for it to be removed when the online retailer finds out the delivery location - this stands at 32% of shoppers on islands
a further 62% of those on islands have also abandoned their online purchase before completing it, while 46% said they no longer shop with that retailer
Many businesses provide an excellent service, with consistent delivery available right across the UK and are responsive to consumer needs such as offering an alternative courier firm to get the best deal for the customer. The summit will aim to come up with ideas as to how best to address concerns.
Consumer Minister Jo Swinson said:
This research shows that people living in certain parts of the UK aren't always getting a good deal. For them, internet shopping is a real lifeline to get the goods they want to buy. When they are facing excessive delivery charges, or worse, companies are refusing to deliver in the first place, they are unfairly losing out.

Businesses are also losing out. This research shows the amount of lost revenue and the fact that they are stunting their own growth potential. Today's summit will help to address the issue. I am pleased that businesses are willing to look at what positive steps they can take to help consumers buying online.
Director of Consumer Futures Adam Scorer said:
Our research shows that online shoppers are being put off by hidden or excessive delivery charges or just refusal to deliver to them. Consumers should be entitled to clear information about delivery options and charges early on in the online shopping process.

As things stand, consumers are losing out on the value and convenience of online shopping and for businesses this means a clear disadvantage in expanding the reach of their products and services.

This summit reflects recognition from government that consumers face difficulties and detriment in online shopping parcel delivery. E-retailers and parcel delivery companies should offer cost-effective delivery services right across the UK. We would be pleased to work with them to identify solutions to the challenges they face – to make this process work for both consumers and businesses.
Notes to editors:
A statement will be issued after the conclusion of the summit on 26 November 2013.

The Consumer Futures report can be found at 'Research into parcel delivery issues in remote locations'

For the purposes of this report rural/remote settlements were classified by Consumer Futures as those with a population of less than 10,000 in England and Wales and less than 4,500 in Northern Ireland. Remote areas were classified as 'hamlet or isolated dwelling' in England and Wales and 'small village, hamlet and open countryside' in Northern Ireland.

The industry association for global e-retailing, Interactive Media Retail Group (IMRG), estimates that the annual loss of revenue to UK e-retailers due to checkout abandonment will reach £6 billion in 2013 (IMRG eCustomerServiceIndex 2013). See the press release for more information.

IMRG also calculates that the overall cost to the UK e-retail sector of failed first time, on time, delivery is £851 million per annum (IMRG UK Valuing Home Delivery Review 2012).

The value of online retail spend by consumers in the run up to Christmas this year is forecast to reach £20.4 billion (IMRG Capgemini e-Retail Sales Index – November 2013).

Online is a UK success story and retailers are doing well at exporting as well as a high take up of online sales nationally. They often go significantly beyond minimum legal requirements in areas like competitive delivery prices; free collection of returns; cancellation periods typically of 28 days as opposed to the 7 days legal period and no additional charging when redelivering goods due to the customer being unavailable.

Surcharges based on location are only applied to delivery services provided outside of the universal postal service - the 1 price goes anywhere service, which is provided for under the Postal Services Act 2011.

Royal Mail, as the UK's provider of the universal postal service, offers a standard parcels service charged at a uniform rate across the United Kingdom as part of the universal service.

The government's economic policy objective is to achieve 'strong, sustainable and balanced growth that is more evenly shared across the country and between industries'. It set 4 ambitions in the 'Plan for Growth', published at Budget 2011:
to create the most competitive tax system in the G20
to make the UK the best place in Europe to start, finance and grow a business
to encourage investment and exports as a route to a more balanced economy
to create a more educated workforce that is the most flexible in Europe
Work is underway across government to achieve these ambitions, including progress on more than 250 measures as part of the Growth Review. Developing an Industrial Strategy gives new impetus to this work by providing businesses, investors and the public with more clarity about the long-term direction in which the government wants the economy to travel.
Published 26 November 2013