Press release
Consultation on rectifying consumer disputes launched
A consultation launched today (11 March 2014) is setting out the government's proposals for an alternative dispute resolution for consumers.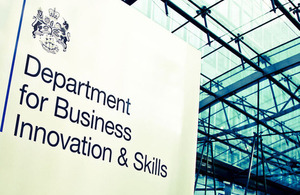 Plans to give consumers greater access to redress if something goes wrong with their purchase of goods or services were outlined by Consumer Minister Jenny Willott today (11 March 2014).
In a consultation launched today (11 March 2014), the government is setting out its proposals for an alternative dispute resolution (ADR) scheme to help consumers resolve their complaint without the cost and hassle of going to court.
There are some well established schemes in regulated sectors where the use of ADR is compulsory, such as the Financial Ombudsman Service, but in other areas such as passenger transport, water, construction, private parking, and vehicle repair, access to ADR remains patchy or limited.
Creating a consumer facing complaints website and phone line is 1 option being considered to reduce confusion that may be caused by the number of ADR schemes in place.
The consultation is also calling for evidence on whether further reform is needed to simplify the ADR landscape to make it easier for consumers while balancing it against the cost to business.
Consumer Minister Jenny Willott said:
Consumers need to be confident that when a purchase goes wrong, the problem will be resolved quickly and easily without having to take it to court. Alternative dispute resolution is a faster, cheaper and more straightforward means of putting it right.

We are trying to strike a balance that is fair to both consumers and business and which makes sure that we see the best result for all parties involved.
The consultation is part of an EU Directive to be implemented by July 2015.
Notes to editors:
The consultation can be found at www.gov.uk/bis and will close on 3 June 2014. It forms part of the Directive on Alternative Dispute Resolution (ADR) (2013/11/EU) and Regulation on Online Dispute Resolution (ODR) (524/2013) which was finalised in July 2013.

The ADR Directive and this consultation are only looking at disputes that a consumer has with a business, following the purchase of a good or a service.

Common forms of ADR are mediation, where an independent third party helps the disputing parties come to a mutually acceptable outcome, and arbitration, where an independent third party considers the facts and takes a decision. Often this decision is binding on one or both parties. Ombudsman schemes are another widely recognised form of ADR.

ADR in the UK is privately funded, often through businesses paying membership fees, levies or case fees. Impartiality of the ADR bodies is ensured through appropriate governance and structural arrangements.

A study carried out by Consumer Focus in 2012 estimated that out of 6.4 million consumer complaints made to business, 2 million were unresolved. More details on this survey can be found at 'Consumer Detriment 2012'.

The government's economic policy objective is to achieve 'strong, sustainable and balanced growth that s more evenly shared across the country and between industries'. It set 4 ambitions in the 'Plan for Growth', published at Budget 2011:
to create the most competitive tax system in the G20
to make the UK the best place in Europe to start, finance and grow a business
to encourage investment and exports as a route to a more balanced economy
to create a more educated workforce that is the most flexible in Europe
Work is underway across government to achieve these ambitions, including progress on more than 250 measures as part of the Growth Review. Developing an Industrial Strategy gives new impetus to this work by providing businesses, investors and the public with more clarity about the long-term direction in which the government wants the economy to travel.
Published 11 March 2014