Consultation launched into disability employment services
The Government launches a consultation into employment services for disabled people and seeks views on the recommendations made by RADAR.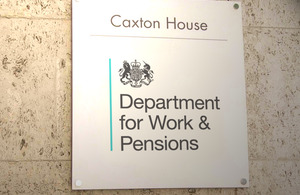 Today the Government is launching a consultation into employment services for disabled people and seeking views on the recommendations put forward by RADAR Chief Executive Liz Sayce.
The Government is also publishing its response to the Sayce Review, 'Getting in, staying in and getting on', which recommends that employment support should be focused on the individual and not the institution, so disabled people can access jobs across the economy - rather than in segregated employment.
The review also recommends improving and expanding Access to Work - which gives financial help for support workers, interpreters, equipment and other practical support to enable disabled people to get and keep jobs.
Overall, the available funding for specialist disability employment support currently helps around 65,000 disabled people each year.  However, there is potential to significantly increase the number of people who can be helped, so that the same level of funding could help nearly 100,000 people, according to Sayce.
RADAR Chief Executive Liz Sayce said:
The work aspirations of disabled people have changed. People want the chance to work in every role from hairdressing to engineering, in every area of the economy. That is why I recommend support that goes with the person - by opening up the Access to Work programme so disabled people can have the same choice of jobs as everyone else and improving support to people with fluctuating conditions, those working in small businesses, and people seeking work experience and internships.

There was a consensus amongst disability organisations that segregated employment is not the right model for the 21st Century. There is the potential to help around 35,000 more disabled people through the changes I am recommending, by spending the money we have more effectively and ensuring people who are most disadvantaged get more effective support.
Responding to the Sayce Review and launching the consultation, Minister for Disabled People, said:
We've been clear that the amount of money going into employment services for disabled people is being protected throughout this spending review period.  The Sayce Review put forward a number of recommendations about how this money could be better used, to support thousands more disabled people, giving them maximum choice and control over the services they receive.

If implemented in full, the Sayce recommendations would have a significant impact on how support is delivered and so before taking decisions in these areas, we are seeking views through a public consultation and I would encourage everyone to get involved.
Sayce would see Access to Work improved and expanded, using funding released from reform of Remploy and Residential Training and over time, moving towards a single specialist disability employment programme.
The specific recommendation to form a cross-government Ministerial group to oversee a new strategy for disability employment has already been accepted.
Access the consultation on the recommendations in Liz Sayce's independent review "Getting in, staying in, and getting on" at: www.dwp.gov.uk/sayce-consultation
Disability organisations and disabled people have welcomed the Sayce recommendations:
Paul Farmer, Chief Executive at the mental health charity Mind, said:
In particular we welcome the recommendation to make Access to Work more widely available. People with mental health problems are often excluded from traditional disability support systems, despite having one of the highest want to work rates of any disability group. Currently, only one per cent of the budget is spent on people with mental health problems, denying many people access to a valuable resource which could support them on their journey to gain and retain employment.
Dr Rachel Perkins, Chair of Equality 2025, said:
The system that has grown up historically is not equitable. It does little for people most likely to be out of work - people with mental health conditions, learning disabilities or autistic spectrum disorders - and it serves far more men than women. We need a system that supports individuals to get any job we choose: after all who wants to pack boxes just because you are disabled?
Mark Goldring CBE, Chief Executive Mencap, said:
We can do much more to help people with disabilities into work in a way that directly benefits them and the wider society. Less than 10% of people with a learning disability are currently employed but we know that most want to work. With modest help it is possible for many more people to work in open employment alongside their non disabled colleagues. This is the way that policy and practice should take us.
Mike Adams, Chief Executive Essex Coalition of Disabled People, said:
Putting support in the hands of disabled individuals will empower far more people to get on at work and to participate fully in society than happens now. And there is nothing more powerful than learning from what other disabled people have found most useful. Disabled people's user-led organisations can have a major role in implementing the important recommendation on peer support.
Notes to Editors:
Around 50% of disabled people are out of work and those that are in work often work far below their potential.
The average spend per person on Access to Work is £2,600.  This compares to £78,000 spent per person to secure work through a Residential Training College and £25,000 a year spent on each disabled employee in a Remploy factory.
All Remploy factory businesses are loss making and currently lose £63m a year.  Some of them only have around 20% productivity.
Media Enquiries: 0203 267 5128
Out of hours: 07659 108 883
Website: www.dwp.gov.uk
Published 11 July 2011