News story
Construction of Midland Metro extension to begin
Construction can now begin on an extension to Midland Metro from Snow Hill Station through the city centre to New Street Station.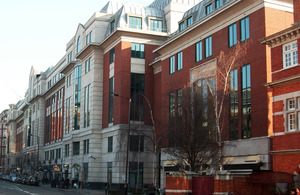 Construction can now begin on an extension to the Midland Metro from Snow Hill Station through the city centre to New Street Station, Local Transport Minister Norman Baker announced today (16 February 2012).
The £128 million scheme will also deliver a new fleet of trams to run on the extended route.
Norman Baker said:
This scheme will bring trams back to the heart of Birmingham, which is great news for both the city itself and the wider West Midlands. It will provide a new, sustainable transport choice for those wishing to reach the city centre's bustling shopping streets and the emerging business district in Snow Hill.

The scheme will also cut carbon and create growth by getting more people on to public transport, create 1,300 new jobs and deliver a £50 million boost to the local economy.
The Department for Transport will provide £75.4 million towards the £128 million cost of the scheme which is being led by Centro, the region's transport authority, in partnership with Birmingham City Council and the Black Country district authorities.
Today's decision gives final approval for Centro to forge ahead and sign contracts for the new fleet of trams, a bigger maintenance depot at Wednesbury and for the construction of the city centre extension.
Centro chief executive Geoff Inskip said:
We are delighted to get the final go-ahead from Treasury and Ministers.

Norman Baker has been a great advocate for this project and we will waste no time in pressing ahead with the construction of the extension which, together with the rebuilding of New Street Station, will transform our public transport network.

Today's announcement is marvellous news for passengers and represents a further shot in the arm for the Birmingham and Black Country economy.
Further information
Today's announcement grants Full (final) Approval to the Midland Metro Extension to Birmingham City Centre, Fleet Replacement and Depot Enhancement scheme enabling work to begin.
The first new tram is scheduled to come into service - on the existing line - in February 2014, the enlarged depot will be available in August 2013 and the city centre extension with the full new tram fleet will be in service from March 2015.
News desk enquiries
Media enquiries 020 7944 3021
Out of hours media enquiries 020 7944 4292
Switchboard 0300 330 3000
Published 16 February 2012