Computer science to be included in the EBacc
Details of Michael Gove's announcement that computer science will be included in the EBacc.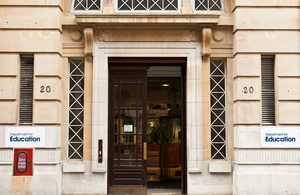 The Education Secretary, Michael Gove, announced today that computer science will be included in the EBacc.
The change is being made because of the importance of computer science for both education and the economy. The previous 'harmful' ICT curriculum was removed in 2012 and will be replaced soon with a new programme of study focused on computer science.
Today, the Education Secretary announced that computer science will be added to the list of separate science options (so there are now 4 separate sciences instead of the traditional 3) in the EBacc. Pupils who sit any 3 of the 4 separate sciences and get at least a C in 2 of them will get the EBacc. For instance, a pupil who sits physics, chemistry and computer science and gets at least 2 Cs will fulfil the science requirement of the EBacc. This change has no effect on those doing the 'traditional' 3 separate sciences, it is just another option. The 'core plus additional' option is unchanged.
The change comes after Michael Gove's speech in 2012 in which he said:
As the chairman of Google, Eric Schmidt, recently lamented, we in England have allowed our education system to ignore our great heritage and we are paying the price for it.

Our school system has not prepared children for this new world. Millions have left school over the past decade without even the basics they need for a decent job. And the current curriculum cannot prepare British students to work at the very forefront of technological change.

Universities, businesses and others will have the opportunity to devise new courses and exams. In particular, we want to see universities and businesses create new high-quality computer science GCSEs, and develop curricula encouraging schools to make use of the brilliant computer science content available on the web.

Imagine the dramatic change which could be possible in just a few years… Instead of children bored out of their minds being taught how to use Word and Excel by bored teachers, we could have 11-year-olds able to write simple 2D computer animations using an MIT tool called Scratch. By 16, they could have an understanding of formal logic previously covered only in university courses and be writing their own apps for smartphones.
Alongside Microsoft, Google, IBM, BT, Facebook and BCS - the Chartered Institute for IT - published a report in November 2012 which analysed computer science GCSE and called for it to be included in the EBacc. The Royal Society's 2012 report by Steve Furber called for the inclusion of computer science in the EBacc.
From now the GCSEs in computer science from OCR and AQA will count towards the EBacc in performance tables. If other exam boards develop GCSEs that BCS, the Chartered Institute for IT, and the Royal Academy of Engineering (RAEng) think are sufficiently high quality, then the Department for Education will include them too.
The Department for Education is making this announcement now so that pupils and schools have time to prepare for teaching from September 2013.
A Department for Education spokesperson said:
We need to bring computational thinking into our schools. Having computer science in the EBacc will have a big impact on schools over the next decade. It will mean millions of children learning to write computer code so they are active creators and controllers of technology instead of just being passive users. It will be great for education, great for the economy, and will help restore the spirit of Alan Turing and make Britain a world leader again.
Ian Livingstone, Life President Eidos and Chair of Next Gen Skills, said:
Computer science becoming the fourth science on the English Baccalaureate is likely to be transformational for this country. Enabling children to become digital makers as well as digital users is like them learning to write as well as read. From problem solving to writing code, computer science will help ensure that this country produces a new generation of digital makers, not just for the games industry, but for all creative and digital industries, and help drive the economy.
A Google spokesperson said:
This has been a good week for computer science education in the UK. Yesterday we were pleased to be able to make a donation of 15,000 Raspberry Pi's to school pupils in the UK. Today's announcement that computer science will be part of the EBacc marks a significant further investment in the next generation of British computer scientists.
Responding to Google's announcement yesterday about supporting free Raspberry Pi in schools, Education Secretary Michael Gove said:
It is great news that Google is helping the brilliant Raspberry Pi project. We are replacing the old-fashioned ICT curriculum with a computer science curriculum. This will combine with the Raspberry Pi project to spread teaching of computer coding which is so educationally and economically vital.
Ends.
DfE enquiries
Central newsdesk - for journalists 020 7783 8300
General enquiries - for members of the public 0370 000 2288
Published 30 January 2013