Competition opens to create bigger and better local wildlife areas
The intention is to re-establish thriving wildlife populations and help species respond to the challenges of climate change.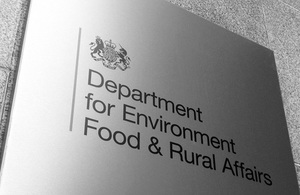 Local communities are being urged to speak up for their favourite nature areas or suggest where new ones could be created in return for a share of £7.5  million to help improve them.
A dozen new Nature Improvement Areas (NIAs) will be established, based on the recommendations of local people. The areas will see rural and urban sites revitalised and turned into bigger, inter-connected networks of wildlife habitats that will range from 10,000 to 50,000 hectares in size. The intention is to re-establish thriving wildlife populations and help species respond to the challenges of climate change.
Richard Benyon said:
"This is the first step in making our Natural Environment White Paper commitments a reality. At a time when the country's economy needs to grow, Defra is finding innovative new ways to protect and enhance our wildlife without standing in the way of much-needed development."
In the countryside, Defra will help local groups create vital buffer zones for wildlife by reintroducing hedgerows, meadows, ponds and woodlands. At the same time barriers preventing wildlife from travelling between neighbouring habitats will be removed.
In towns and cities, the public will be helped to add trees to their streets and build new miniature 'pocket gardens'. Funds will also be made available to turn roofs into new habitats for birds and insects while helping people keep their buildings cool in summer and warm in winter.
Professor Sir John Lawton, who will Chair the panel that will decide the 12 NIAs, said:
"Nature Improvement Areas provide one of the best opportunities in years to turn around the declines we are seeing in the natural world around us. They will help transform parts of our countryside and towns, creating large areas that are great for wildlife and great for people."
NIAs will vary in form across England according to an area's geography. In order to qualify, competition entries will have to demonstrate a shared vision between public and voluntary sector partners to make major improvements to large areas of land for the benefit of wildlife and the public. Land adjacent to a NIA must also be integrated to protect its valuable habitats against the threats posed by future climate change.
Defra, the Environment Agency and the Forestry Commission will work together to support the development of each NIA. They will also receive dedicated administrative support from Natural England, and other resources are expected to come from a range of private and voluntary organisations.
Helen Phillips, Chief Executive of Natural England who will manage the NIA competition and funds, said:
"Nature Improvement Areas present a tremendous opportunity to benefit people and wildlife. We look forward to a range of projects that will untap the potential for local communities, the private sector, the voluntary sector and government to work together in make a lasting difference to landscapes across the country."
From today Defra is also seeking expressions of interest from local authorities for its Biodiversity Offsetting pilot. This will help developers to follow planning system rules to make good any harm to wildlife, creating new quality habitats or make existing nature sites bigger and better for wildlife.
The pilot will run for two years from April 2012, providing an opportunity to thoroughly test the offsetting process before a decision is made about whether it could be used across England. Local authorities are the focus of the pilot, but conservation and community groups, developers, farmers and land managers will also play a key role in testing the effectiveness of the approach.
Notes
Natural England will run the competition to identify 12 Nature Improvement Areas. Initial applications will be due by autumn 2011 and more detailed second-stage application by the end of 2011. Both initial and second-stage applications will be assessed by a national panel chaired by Sir John Lawton. Panel members are currently being finalised. More information can be found at: http://www.naturalengland.org.uk/nia.
It is expected that the NIAs will be able to become operational by 1 April 2012 and a share of the £7.5 million will be available to each NIA over the next three years.
Defra has also allocated a further £200,000 to help establish an information and knowledge sharing framework to help inform and improve the NIAs scheme.
More information on biodiversity offsetting, including how to express an interest is available at: http://www.defra.gov.uk/environment/natural/biodiversity/uk/offsetting/.
The NIAs competition and biodiversity offsetting pilot were outlined as commitments in the recently published Natural Environment White Paper and will be key components in the England Biodiversity Strategy due to be published shortly.
Published 14 July 2011