Press release
Competition and Markets Authority announces third wave of director appointments
The CMA today announced further director appointments into its senior management structure.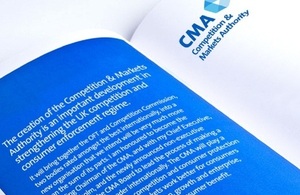 These appointments come from the existing senior staff of the Competition Commission (CC) and Office of Fair Trading (OFT).
The new appointments include senior management positions in the Enforcement Directorate, Markets and Mergers Directorate and offices of the General Counsel and Chief Economic Adviser.
Fifteen directors were appointed across the Enforcement and Markets and Mergers Directorates:
Mark Bethell, Project / Inquiry Director
Louis Christofides, Legal Director
Douglas Cooper, Project / Inquiry Director
Lee Craddock, Director, Criminal Enforcement
Tony Donaldson, Project / Inquiry Director
Andrew Groves, Project / Inquiry Director
Paul Gurowich, Legal Director
Morven Hadden, Legal Director
Claire Hart, Economics Director
Antonia Horrocks, Project / Inquiry Director
Tom Kitchen, Economics Director
Gaucho Rasmussen, Project / Inquiry Director
Edward Smith, Project / Inquiry Director
Caroline Wallace, Project / Inquiry Director
Andrew Wright, Project / Inquiry Director
Three directors were appointed to the Office of the Chief Economic Adviser:
Lucy Beverley, Director, Remedies, Business and Financial Analysis
Adam Land, Director, Remedies, Business and Financial Analysis
Graeme Reynolds, Director, Remedies, Business and Financial Analysis
One director was appointed to the Office of General Counsel:
Gordon Ashworth, Director, Consumer Policy
The CMA is currently matching other CC and OFT staff into its new structure and expects the large majority of staff to have a confirmed role in the new organisation before the end of the year. The CMA is also recruiting further senior staff to fill remaining vacancies in its management structure.
CMA Chief Executive, Alex Chisholm, said:
These new appointments have been made from within existing CC and OFT staff and will ensure their strong skills and in-depth experience lend continuity to CMA cases and projects and help ensure a smooth transition from the existing institutions.

The appointment of these high quality candidates further cements the senior team which will help lead the new organisation. I look forward to working with each of them when we open for business next April.
Today's appointments follow previous announcements of the CMA Board and Senior Executive Team, senior staff appointments, and corporate and support services senior staff. The final director level appointments will be made in the New Year.
The CMA has also today published an organogram showing its structure and current complement of senior staff.
For more information on the CMA click on its homepage or follow us via our Twitter account @CMAgovuk and LinkedIn page.
Notes for editors
Media enquiries to be directed to Kasia Reardon on 020 7211 8901 or Rory Taylor on 020 7271 0242.
The CMA will continue to update its organogram as further appointments are made.
Biographies (in the order they appear above):
Mark Bethell joined the CC in 2008. He has practised competition law in private practice in Brussels and was a case handler at the OFT. He has also acted as one of the UK's agents in litigation before the EC courts, and as an advisory lawyer at Defra. Since joining the CC, he has led several merger inquiries, as well as the CC's consideration of Bristol Water's price determination. He acted as Inquiry Director on the statutory audit services market inquiry.
Louis Christofides is currently Director of Competition Law in the General Counsel's Office at the OFT. He joined in 1999 and has held a number of legal advisory and case work leadership positions, covering a wide range of the OFT's competition enforcement tools. Prior to joining the OFT, he practised as a solicitor specialising in competition law at a City law firm and in-house at a major multinational company.
Douglas Cooper joined the CC in 1999 as an Economic Adviser. He acted as lead economist on many merger and market inquiries. Before joining the CC, Douglas worked at the DTI and at MAFF. He holds a Ph.D in economics from Nottingham University. He has been Inquiry Director for several mergers and market investigations, including railway rolling stock leasing and local bus services. Most recently he has worked on regulatory cases including telecommunications price control appeals and price control determinations for gas and electricity networks. Since November 2013 he has been on secondment to the OFT as a Project Director, working on market studies.
Lee Craddock is the OFT's Director of Investigations and Criminal Enforcement. Lee joined the OFT in June 2011 having previously worked for 10 years as a Case Controller at the Serious Fraud Office leading on the investigation and prosecution of serious and complex fraud. Prior to joining the SFO, Lee worked for the Metropolitan Police's Directorate of Legal Services defending high profile civil actions and judicial reviews brought against the police. He started his legal career in private practice where he specialised in civil and commercial litigation as well as undertaking complex Crown Court criminal defence work.
Tony Donaldson joined the OFT from the Department of Constitutional Affairs in 2005 as Branch Director, leading a branch of economic, financial and statistical specialists providing technical expertise and support, review and evaluation across the OFT. He is currently a Project Director and Senior Economist in the Services, Infrastructure and Public Markets Group.
Andrew Groves is a qualified competition lawyer and is currently an Enforcement Director in the OFT's Goods and Consumer branch where he has led several Competition Act investigations. Andrew worked in private practice for several years before joining the OFT.
Paul Gurowich has been a Director at the OFT since 2002, acting in various roles dealing with consumer law and legislation, consumer policy and the public law obligations of the OFT. He has also worked elsewhere in government, on housing law issues, and for Which? magazine. He trained as a solicitor in his thirties after a period in academic life.
Morven Hadden is currently Legal Director at the CC and joined the organisation in 2007. She was previously a Senior Associate in the EU, Competition & Regulatory department of City law firm Simmons & Simmons in EU and competition law. She has worked at the DTI and at BIS as a competition policy and legal adviser on the media merger provisions and on proposals for reform of the UK competition law landscape. Morven has advised the CC on merger, market and regulatory inquiries as well as acting for the CC in litigation and has been involved in developing the CC's procedural guidance.
Claire Hart is currently Director of Economics in the Services, Infrastructure and Public Markets Group at the OFT and Project Director for the Paroxetine Competition Act case. Since joining in 1999, Claire has worked on a wide variety of Competition Act cases and market studies covering numerous sectors, including newspaper and magazine distribution, air transport and pharmaceuticals. She was a university lecturer specialising in Industrial Organisation before joining OFT.
Antonia Horrocks is currently an Inquiry Director and joined the CC in 2012. She was previously a Counsel in the antitrust team at Shearman & Sterling and prior to that worked as a competition lawyer in law firms in the UK and New Zealand. She has advised companies in a variety of sectors on all aspects of EC and UK competition law, with a particular focus on managing global mergers and cartel cases. Since joining the CC she has led a number of merger inquiries.
Tom Kitchen is currently Director of Economic Analysis at the CC. He joined the organisation in the late 1990s for his second stint and became a director in the economics team in 2003. He has worked on many inquiries. Before joining the CC, his competition and regulatory work mainly focused on the transport and energy industries.
Gaucho Rasmussen joins the CMA from the OFT where he is an Enforcement Director in the Goods and Consumer Group. In addition, Gaucho's career as a competition lawyer has spanned private industry as in-house competition counsel, private practice and as a referendaire to Judge Bo Vesterdorf, then President of the European Court of First Instance.
Edward Smith studied economics at the University of Oxford, College of Europe in Bruges and completed a Ph.D in 1998. He was a lecturer in economics at the University of Sussex and a Research Officer at the National Economic Research Associates. During the 2000s he worked in Brussels, first at the European Commission and then for the UK Representation to the EU as First Secretary (economics and finance). He returned to the OFT in London in 2008 where he currently works as a Project Director and Senior Economist in the Services, Infrastructure and Public Markets Groups. He also heads the OFT's international function where he works closely with EU NCAs, US agencies and with agencies in China.
Caroline Wallace is an Inquiry Director at the CC and joined the organisation in 2005. She spent the previous 5 years at Oftel and then Ofcom, where she was a Director of Competition Policy. She is a chartered engineer and, prior to joining Oftel, had worked in the telecoms, water and manufacturing industries. Since joining the CC she has worked on inquiries related to (among other things) transport, food, chemicals, software, the financial sector and construction materials.
Andrew Wright joined the CC in 2005 and is currently an Inquiry Director. In his time at the CC he has led merger inquiries in many sectors, including broadcast transmission infrastructure and services, live event ticketing, health foods, Stilton cheese and mass spectrometry equipment. He has also led a market investigation into movies on pay TV and a pricing review of Stansted Airport. Previously, he was a manager at Deloitte Corporate Finance, having initially trained as a chartered accountant with Arthur Andersen.
Lucy Beverley joined the CC in 2002. She is a chartered accountant and has an MA in Competition and Regulation Policy from UEA. Since joining the CC she has been involved in financial analysis and remedies work on several market investigations including storecards, PPI, and movies on pay TV. More recently; audit, merger references such as Eurotunnel, and analysis of the cost of capital and other financial issues on many of the regulatory references that the CC has dealt with in recent years, including in the aviation, telecoms, water, and energy sectors. She has responsibility for the Finance and Regulation Group and the Cost of Capital Panel within the CC. Prior to joining the CC she was Finance Director of an AIM listed investment company, having previously worked in the Telecoms consulting arm of PwC.
Adam Land joined the CC in May 2004 and has worked on numerous merger and market investigations. Before becoming Director of Remedies and Business Analysis in 2007, he worked in the economics team and acted as Head of Policy Analysis. He joined the CC from HM Treasury, where he worked on the Cruickshank Review of banking, the Barker Review of housing supply as well as various other aspects of UK and European microeconomic policy. Before that, Adam was at the OFT for 5 years, where he evaluated mergers and competition issues in financial services.
Graeme Reynolds joined the CC in 2005. Before becoming the CC's Director of Remedies and Business Analysis in 2008, he worked in the economics team, acting as lead economist on a number of market investigations and merger inquiries. He has also spent a period on secondment to the OFT's mergers branch. Prior to joining the CC, he worked as an economic consultant for Andersen and later, Deloitte, with particular experience in regulated utilities, notably energy and telecommunications. He is also a qualified chartered accountant.
Gordon Ashworth has spent most of his career at the OFT. He joined the OFT in 1987 and in that time has worked on a range of policy projects and enforcement cases across OFT's consumer and competition work. Most recently, he led the OFT's response to the BIS review of the consumer landscape institutions and is currently leading OFT's work on the extensive UK and EU legislative reform programme for consumer law.
Published 13 December 2013