Press release
Competition and Markets Authority announces further appointments
The Competition and Markets Authority (CMA) has today announced its first wave of Director level appointments.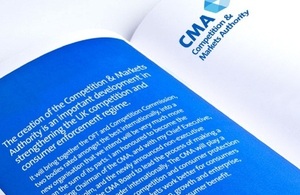 These relate to corporate and support services. The 7 appointments are as follows:
Carmel Flatley, Director of Human Resources
Freya Guinness, Director of Organisational Transformation
Jennifer Halliday, Director of Project Management Office
Tim Jarvis, Director of Executive Office, Governance and International
Paul Latham, Director of Strategy, Communications and Devolved Nations
Rebecca Lawrence, Director of Finance and Commercial
Mario Tsavellas, Director of Business Services
They will report to Erik Wilson, Executive Director of Corporate Services.
CMA Chief Executive Alex Chisholm said:
Today's appointments are another important stepping stone in the creation of the new authority. I am delighted with the quality of these appointees, who bring with them considerable expertise and skills from both within the competition regime and wider sectors.

These individuals will play a leading role in ensuring the right structure is in place to support the CMA in achieving its priorities. This includes overseeing strategic direction, effective governance and project management in the organisation.
Today's announcement follows on from the earlier appointments of the CMA Board and Senior Executive Team. Further Director level appointments will be made over the coming weeks.
For more information on the CMA click on its homepage or follow us via our Twitter account @CMAgovuk and LinkedIn page.
Notes for editors
1.Enquiries should be directed to Kasia Reardon on 020 7211 8901.
2.These appointments were made through fair and open competition and in accordance with Civil Service Commission recruitment principles.
3.Biographies:
Director of Human Resources - Carmel Flatley is currently HR Director at the OFT, a role she has been in for the last 5 and a half years. Prior to this Carmel spent 3 years as Chief Executive at NHS Professionals and 20 years as Senior Vice President, Chief Human Resources and Training Officer at McDonalds Restaurants Ltd. Carmel is a Companion of the CIPD.
Director of Organisational Transformation - Freya Guinness is currently Director of Operational Transformation for Ofcom. She joined Ofcom in 2004 as Director of Operations, Competition and Markets Group and later went on to become Delivery Director throughout the Olympics. Freya was also Executive Director, Global Investment Research at Goldman Sachs for 4 years after leaving Cable & Wireless in 2000 as Commercial Controller, Cable Business.
Director of Project Management Office - Jennifer Halliday is currently an Assistant Director, Goods & Consumer Group at the OFT. She joined the OFT in 2004 as a case officer and later went on to become Advisor to the CEO and Head of Private Office for 4 years. She was also a Specialist Adviser to the House of Lords Select Committee on the Review of the EC Merger Regulation.
Director of Executive Office, Governance and International - Tim Jarvis is currently an Inquiry Director at the Competition Commission. He joined from the Greater London Authority where he led teams carrying out inquiries on behalf of elected Members. After starting his career in social housing, he spent over 10 years at the House of Commons, which included supporting Select Committees and providing procedural advice to MPs.
Director of Strategy, Communications and Devolved Nations - Paul Latham has been Director of Communications at the OFT for the last 2 and a half years and was Head of External Relations prior to this. Before joining the OFT he spent 3 years as Head of News at the CBI. Paul also worked for the Strategic Rail Authority as Head of Media, and at the Countryside Alliance.
Director of Finance and Commercial - Rebecca Lawrence is currently Director of Corporate Services at the Competition Commission, a role she has held for nearly 9 years. Rebecca's previous experience was spent with The Rent Service where she was Operations Director responsible for over 800 staff across 33 offices and management of a budget in excess of £18 million per annum.
Director of Business Services - Mario Tsavellas is currently the Director of Business Services and CIO at OFT, a role he has held for 4 years alongside more recently leading on the ICT (Smarter Working) work stream for the CMA. Mario previously spent 10 years with Vertex Data Science Limited leading transformation solutions for public sector clients.
4.The Enterprise and Regulatory Reform Act which creates the CMA received Royal Assent on 25 April 2013. The new unified Authority will bring together the CC with the competition and certain consumer functions of the OFT and will be responsible for promoting competition for the benefit of consumers. The CMA will bring about significant benefits to business and consumers, including greater coherence, flexibility, speed and transparency in the operation of the competition regime.
5.The CMA was legally established on 1 October 2013 and will assume its full powers from 1 April 2014. As a shadow body it is currently recruiting and making the necessary preparations and decisions to enable it to assume its responsibilities next year.
6.The CMA is consulting until 12 November on its proposed vision, strategy and values.
Published 6 November 2013