Press release
Company fined for illegal waste offences
A South Devon company has been ordered to pay £15,760.10 in fines and costs for storing waste including hazardous asbestos roof tiles at an unlicensed site.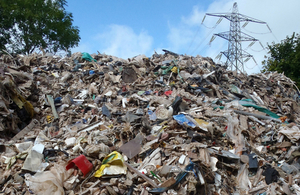 The case was brought by the Environment Agency.
Armabridge Ltd waste operates 2 businesses from separate sites in Torquay. They include a top soil supply business at Kerswell Garden Centre known as 'Topsoil Torbay' and a waste transfer station and skip business at Barton Hill Way trading as 'Skip-it'.
On 6 June 2014 Environment Agency officers found suspicious piles of waste at the Kerswell Garden Centre site. Closer inspection showed it was screened or sieved waste known as 'fines'. Samples of the waste were later analysed and found to contain hazardous materials including asbestos.
The managing director of Armabridge Ltd admitted tipping some of the screened waste, but disputed the suggestion his company was responsible for all of the illegal waste deposited. In an interview under caution he admitted using the Kerswell Gardens site to process waste to avoid high landfill charges.
Samples taken by the Environment Agency from the site were found to contain elevated levels of antimony, sulphate, organic carbon and total dissolved solids at levels that would still have resulted in the waste being classified as non-inert irrespective of the presence of asbestos.
Environment Agency officers estimated that approximately 2,600 tonnes of hazardous waste (due to the prescence of asbestos) had been deposited at the Kerswell Garden Centre site that was only licensed to accept inert wastes.
Problems were also discovered at the company's waste transfer station at Barton Hill Way earlier in 2014 where there was considered to be a risk of waste run-off entering surface water drainage systems and contaminating the surrounding environment. A large pile of mixed waste was also being stored outside the permitted area in close proximity to an electrical sub-station.
Armabridge Ltd was asked to address these problems, but when Environment Agency officers carried out a follow-up inspection on 3 June 2014 no action had been taken.
The company's failure to comply with the conditions of its site permit resulted in the Environment Agency issuing Armabridge Ltd with an Enforcement Notice on 10 July 2014. The site remained largely unchanged when it was next inspected in October 2014. Inadequate measures had been taken to prevent contaminated water from entering surface water drainage and the large pile of waste stored outside the permitted area was still in place.
Jacob Hess for the Environment Agency said:
In our opinion this defendant found a cheap way to dispose of waste, but in saving money the company failed to take the necessary steps to protect the environment. Although the asbestos was mainly in a bonded form, any movement or treatment of this waste without proper controls in place may have lead to the release and spread of asbestos fibres putting the environment at further risk.
Inadequate infrastructure and storage of waste at the waste transfer site meant that site operations posed an immediate risk to the local environment.
Appearing before Torquay magistrates Armabridge Ltd of Torquay was fined £6,000 and ordered to pay £9,640.10 costs after pleading guilty to 3 offences under the Environmental Permitting Regulations (2010) and Environmental Protection Act (1990) including operating a regulated facility without permit and failing to comply with 2 enforcement notices. The company was fined £2,000 for each offence.
The case was heard on 26 January 2016.
Published 9 February 2016